Dreams. We've all got them. But only some people ever make it to the end of life having actually accomplished their dreams and goals. In today's post, we're talking about the number one thing holding you back from your dreams.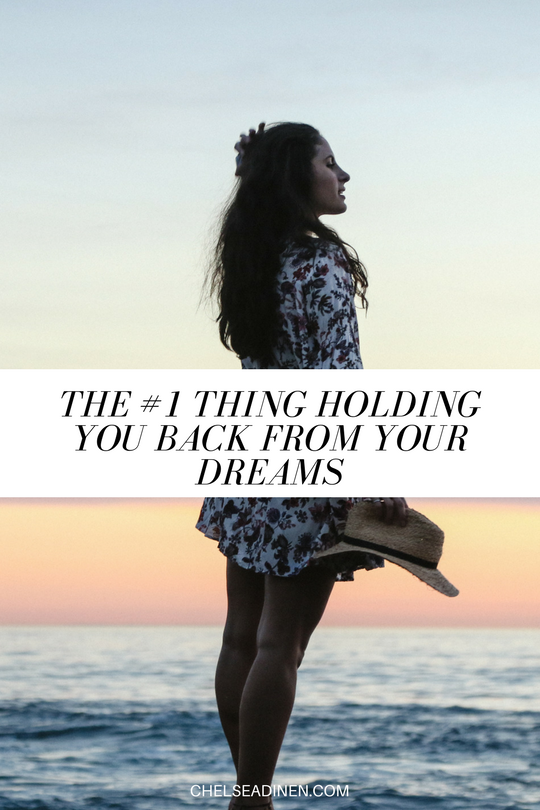 So, let's talk specifically about that top dream of yours. The one you know in your heart you just have to go after. Whenever you picture it in your mind, you get that gut feeling of, "Yes! I have to make this come true."
Perhaps it's the dream of starting a business that gives you freedom and purpose.
Perhaps it's taking a year to travel all over to different countries to experience their cultures.
Perhaps it's writing a book or inventing something that will change the world as we know it.
Perhaps it's the idea of moving to a new city and experiencing something completely different.
What ever your dream is, I want you to picture it now in your mind. Say it out loud. Bring it into the light.
Because I want you to know that it's possible. And the more you say it and envision it, the more real it will feel. I think sometimes using the word "dream" to describe the deepest yearnings and desires of our heart makes it seem as though it is just a fairytale; as though it can't actually happen.
So, let's re-phrase this. Let's see that dream as your biggest life goal. It's a goal, which means that it is absolutely achievable.
Let's talk now about the whole purpose of this article which is:
THE NUMBER ONE THING HOLDING YOU BACK FROM ACCOMPLISHING YOUR DREAMS AND GOALS.
(P.S. You can also watch my video on this topic over on YouTube here, if you prefer!)
---
If you decide you want to make a big change in your life and go after what you want most, you have two options:
1. TALK ABOUT IT. THINK ABOUT IT. DREAM ABOUT IT.
Sitting at your day job saying, "one day…" won't get you there. Telling your friends about it, asking your family for their opinion, reading blog after blog looking for motivation, and making excuses for why it hasn't happened yet — None of those things will make your dream/your goal a reality.
It is so easy to talk about it, think about it, and dream about it. It's easy to scour Google looking for answers or advice or help. It's easy to come up with a million reasons why right now isn't the right time. It's easy to wait for the perfect time. (Hint: The perfect time doesn't exist.)
Some Helpful Resources:
---
2. DO IT.
So here it is. The reason why so many people with big dreams and goals never actually accomplish them is because they never take deliberate, consistent action until they get there. Because, unlike talking, thinking, and dreaming, DO-ing is the difficult part. DO-ing is the scary part. DO-ing is the part that requires a lot of work, patience, perseverance, and courage.
It's tough to put yourself out there and risk failure or risk being judged by other people. So, a lot of people either half-ass their dream and then quit, or sadly, they never even try. They look back one day wondering 'what if…'.
Don't be one of those people. Be one of the brave ones. Be one of the people who believed in their dream/goal enough to actually go for it. Be one of the people who fought the fear and did it anyway.
Because if you want it badly enough, the risk is worth it. And if you fail, you learn. You change course and try again. And again. And again.
At the end of the day, you realize how short and precious this life is, and you care more about doing something worthwhile, something that matters, something you believe in, than sitting back and playing it safe.
So, here's what to do. Start with one action step you can take TODAY that will bring you closer to your goal. No more procrastinating. No more putting it off. Take one action today. One action tomorrow. Step by step until you get there.
"The trouble is, you think you have time." – Jack Kornfield
More Helpful Resources:
Leave a comment below letting me know what stood out for you the most and what you're going to start doing differently in order to take action today.
---