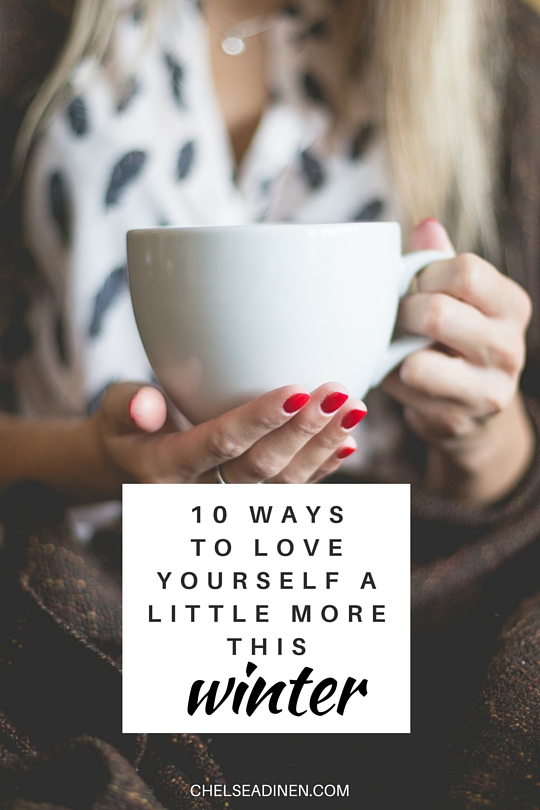 Winter is upon us and, I don't know about you, but this is one of my absolute favorite times of the entire year. To me, it's the perfect time to be introspective — to cozy up, nurture yourself, and love yourself.
So, I've put together a list of some of the best ways to take advantage of the shorter days, longer nights, and brisk weather.
Use this season and the New Year as a time for renewal, reflection, and self love. Prioritize yourself and your self care practice.
Without further ado, and in no particular order, here are 10 ways to love yourself a little more this winter:
1. Enjoy some alone time with nature
Go for a walk in the rain or make a snow angel. Connecting with nature is a great (and free!) way to reconnect with the Universe. Notice all the small, divinely-inspired details around you. The delicate, intricate design of every snowflake or the sound of the snow when you walk across it.
2. Try a new winter recipe
Whether you prefer to cook or bake, pick out a new recipe, and set aside some time to spend in the kitchen. When I first moved to San Diego, I made it a goal of mine to try at least one new recipe a week. It's a great way to find new dishes you love while also expanding your reportoire ;)
3. Create a cozy music playlist.
I created a 'Sunday Morning' playlist on Spotify. I'll play it whenever I'm in a relaxed state of mind. The songs inspire me to dive inward, journal, explore my dreams and what has been on my mind lately. Try putting together a playlist that inspires you to slow down and enjoy the moment. To pour yourself a hot cup of tea or coffee and relax, ease into the day, and really be in the now.
4. Start a new craft project for your home
Jump on Pinterest and search for some DIY projects for your home that look like they'd be fun. (You can follow my DIY board here for some ideas!) Sometimes there is nothing better on a cold day than a hands-on project that will add a personal touch to your sacred space.
5. Put on some daring lipstick
Whether you're going out or staying in, I think winter is a great time to try that new lipstick shade you've had your eye on. I fully believe we ought to dress up for ourselves from time to time and that includes putting on a daring shade of lipstick even if no one else sees us! Why not?
6. Have your own DIY spa day using natural winter ingredients
Try incorporating ingredients such as peppermint, oatmeal, or honey into your very own little spa day at home. Again, Pinterest is full of resources to help you find natural, holistic recipes to use that are good for your skin, hair, nails, etc. Take a day or night to just unwind and pamper yourself. One of my new favorite nighttime self-care routines is to soak in an Epsom salt bath and then give myself a manicure/pedicure once I get out of the tub. Pick out a warm winter color and carefully paint your nails.
7. Light a candle and make a list of your goals and dreams
Put on that playlist you created while you're at it. I believe such a vital part of our self care practice is taking time to connect with ourselves on a deep level. To check in with ourselves and reflect on what is currently working in our life and what needs to change, shift, expand. Take some time out of your day to turn off your phone, turn off the TV, and just connect with yourself through journaling.
Find one time every day to write in your journal and commit to writing during that time every day for one week. For me, I cuddle up with my coffee or tea on the couch in the morning and write what ever is on my heart. It's amazing to look back on your thoughts and feelings and dreams later on down the road.
8. Try a new juice, tea, or Kombucha
The next time you're at the store, pick up a nutritious drink you've yet to try. You might even surprise yourself. I randomly picked up a bottle of Kombucha once to try it. Admittedly, I couldn't stand the taste of it. However, I gave it a try again a year later and now it is my number one favorite drink! Don't be afraid to try something new, especially when it's good for you!.
9. Cuddle up with your favorite blanket and spend an entire evening reading a book.
Sometimes what our mind needs most is to drift off into the pages of a book. If you're in need of a good book, you can check out some of my recommendations here.
10. Purge
Your closet, your makeup, your bookshelves, your toxic relationships, your clutter, your mind-numbing job. Get rid of everything that no longer serves you. Simplify. I've adopted a minimalist mindset and it has changed my life drastically.
Becoming a minimalist is especially helpful when preparing to move as well :)
---
There you have it! 10 ways to love yourself a little more this winter.
Remember how important your self-care practice is. If you neglected your self-care last year, let this be a time to restore and renew and re-commit to yourself above all else.
What are you going to start doing (or continue doing?) this winter to love yourself first and foremost? Let me know in the comments below!
As always, if you enjoyed this article, feel free to use the 'share' buttons below to share this across your networks. I would love for more women (and men) to be inspired to make their self-care practice a priority this season, as well as all seasons.
If you're struggling with self-love and need guidance, support, and help, one of my coaching programs may be just what you need to get yourself on the right track now when the year is still fresh. You can read more about my coaching offerings here.
Much love,
Chelsea