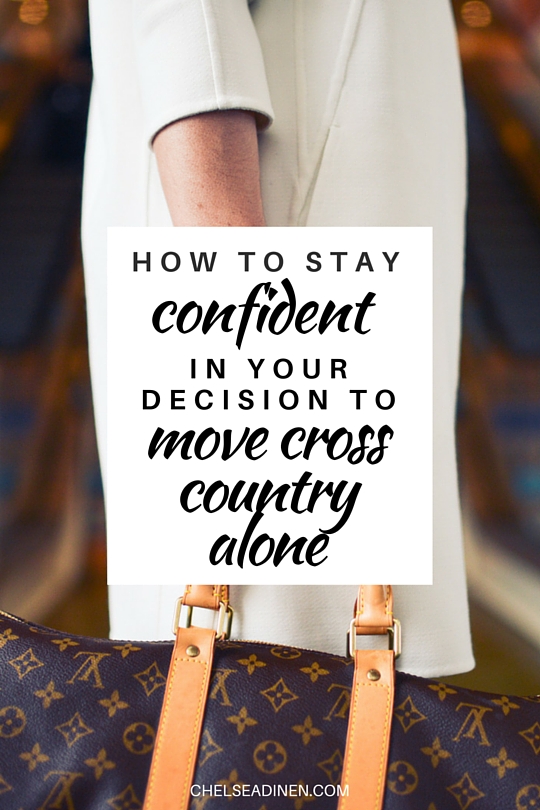 After moving cross country four times, and preparing for my fifth long distance move, I know how badly doubt and limiting beliefs can start to affect you as you prepare to move cross country alone.
Moving cross country alone is no easy feat. It's not easy to decide to uproot your current life in order to start a new chapter entirely on your own.
So, I've put together some of my own personal methods to stay confident in your decision to move cross country alone.
Remember, for more in-depth tools, resources, and guided visualizations about all things moving-related, you can register for my eCourse Soul Centered-Moving: A Spirited Course in Moving Cross Country Alone today. I highly recommend taking a look now so that you won't miss out on the early bird pricing/bonuses!
1. Ask yourself, "Which option feels like forward movement?"
If you're still debating about whether or not to move or to stay where you currently are, ask this question. It's something I once heard Jordan Bach say and I use it now whenever I have a tough decision to make. A decision where there are many pros and many cons regardless of the option.
Oftentimes, society wants us to think that we must stay in a career we went to school for or that we invested the past however many years working to gain experience in. We begin to think that if we were to leave to pursue a different lifestyle elsewhere, it would all go to waste. But is that really true?
Instead, ask yourself which option truly feels like forward movement.
Remember, moving forward is different than remaining stagnant.
2. Remember why you started
When you begin to feel doubt sneak in, remember why you started.
Is it because your soul craves to expand and grow? Is it because you've been feeling the push to live outside your comfort zone? To stop putting off your dream of moving to that new city?
What ever the reason, reconnect with it now.
Stop and take a deep breath. Focus only on the very reason why you started.
Do this every morning when you wake up and every night before you go to sleep.
Sometimes "life gets in the way" and the busy-ness of moving distracts us from that deep passion that originally brought us to this very point in time.
By reconnecting with the purpose behind this move, you'll begin to reinforce your core beliefs and desires and goals. And from there, your confidence will blossom.
3. Don't base your decisions on the advice of those who don't have to deal with the results
If you haven't already, now is the time to start setting boundaries. Moving to a new city on your own is a very big and often difficult decision to make, and any negative energy in the form of disapproval or judgment from others can be very detrimental.
Family members and friends may not entirely understand or agree with your decision to make such a big life change. Let go of the need for their approval. And remember:
The only person you need permission from to follow your dreams is yourself.
If you feel confident about this decision, if you feel it is the right step moving forward in your life, that is truly all that matters.
Trust that the right people will come around when they're ready.
But don't go pining for their support and advice in the meantime.
---
As with all personal development and new life chapters…
Take your power back.
It's the key to stay confident in your decision to move cross country alone.
Whether you believe it or not right now, you really can do this all on your own.
You'll see.
When working with my beautiful clients, I often bring up the importance of exercising our "courage muscle." Nearly every time a client mentions doubt creeping in and losing their confidence, it's because they either allow their own negative thoughts (the 'what ifs') to consume them OR it's because of something someone else said to them.
It's time to turn the negativity around.
It takes a great amount of courage to start a new chapter in a new city on your own. But all these little moments and lessons leading up to your move are opportunities to strengthen that courage and prove to yourself, "I am capable. I can do this."
Because you are. And you can.
Leave a comment below letting me know what stood out for you the most and what you're going to start doing differently in order to flex that courage muscle a little more.

Some Helpful Resources: