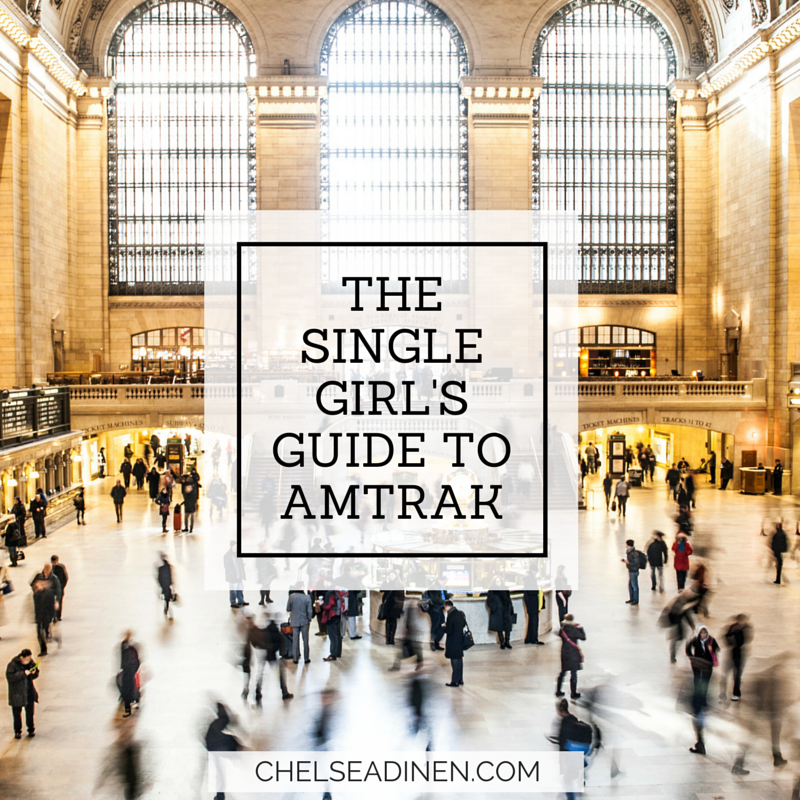 In June, I traveled up to New York City for a miraculous weekend with Gabby Bernstein and my Spirit Junkie brothers and sisters. While planning my trip, I decided I was going to take the train from Washington, DC up to NYC, which I had never done before. Although I had been to New York City many times before, there was something about this trip that made me rather nervous and anxious. Mainly the idea of getting dropped off smack dab in the middle of the Big Apple all by myself and then figuring it out from there. Traveling solo can be a bit intimidating, especially when you don't know what to expect so I decided to write about my experience for any other single girls out there who are getting ready for their first solo trip on Amtrak.
1. Booking your train ride
My schedule was pretty flexible so I had several different time options to go with when booking my trip. I started checking prices about a month out and then waited until a week and a half before my trip to actually book. Tip: Prices do go up, so if you see a good deal, book it. I checked prices one afternoon and by the next morning, the train I wanted had gone up about $30-40 in price.
Similar to some airlines, Amtrak offers different fare categories (Saver, Value, Flexible, and Premium) which have different refund rules and restrictions. FYI, I went with Value. You reserve your departure and then reserve your return train. The majority of cars on the train are Coach but you could also select Business Class if you prefer.
I also had the option of booking the Northeast Regional train or the Acela Express (a more expensive train which gets you there about an hour sooner.) As I was not in a hurry, I chose the Northeast Regional.
2. Before your trip
Having never taken Amtrak before, I had no idea how everything would compare to air travel (loyal Southwest flyer here.) All I knew was that checked baggage was not allowed on my train. This was noted in the information next to the various train times at booking so be sure to check for that. You can read more about baggage information here, but basically, I was allowed 2 carry-on items and a personal item. I ended up taking a carry-on suitcase, my Herschel backpack to hold my Macbook and favorite books, as well as a tiny crossbody purse to hold my wallet, iPhone, and sunglasses.
I also downloaded the Amtrak app which allowed me to board using my eTicket. Other than that though, I felt the app to be a bit of a pain. (Basically, once you show your eTicket the first time at the gate and then the second time when the conductor walks through the train, your eTicket disappears. The conductor on my train back from Amtrak said when that happens, they have to look you up by name. Kind of a drag, if you ask me.)
Also, just FYI, you don't have to "check-in" prior to departure like you do on flights :)
3. Boarding the train
It is recommended that you arrive at the station at least 30 minutes prior to your train's departure. My train left from Union Station in Washington, DC which apparently has a different system for boarding than other stations. Once you arrive at Union Station, you go up to the board and find your train number + destination. They'll assign your train a track number which will then be listed on the board. At Union Station, once you get to your gate, it's similar to how you board in an airport. You line up in queue and one-by-one, they check your ticket and ID. Then, you walk outside to the train and just choose which car to get on and seat yourself.
You place your baggage in the luggage rack above your seat or in the designated areas closer to the doors. I placed mine above my seat but, because I'm short, a few kind gentlemen offered to help :)
At Penn Station in NYC, it's more of a free-for-all. When you arrive inside the station, the boards are located in the middle, where you'll find most people waiting to see which track is assigned to their train. You wait and wait and wait until your train goes from 'Standby' to the track number and then it's a mad dash to the escalator where everyone has to show their ticket to an Amtrak employee before sprinting down to the platform.
4. On the train
Getting my seat was probably the most hectic part for me.
First of all, I literally arrived at Union Station and boarded the train so there were many people who had boarded ahead of me. Not having assigned seats, this meant one thing: I wasn't going to have much to choose from. I jumped onto maybe the second or third Coach car that I passed and it was quickly filling up (because people can board the car from both sides.)
Here's one major tip that I found out just before boarding:
If you want access to an outlet to charge your laptop/phone, get a window seat.
Luckily, I scored the last window seat. Once everyone finished boarding, I looked around and noticed that it was mostly just window seats that were occupied. We started moving, they announced the next station and when we would be arriving and then when we stopped there, more people boarded and the car pretty much filled up.
They'll either announce over the speakers or yell from the back of the car, "Have your tickets out!" when the conductor comes through to check your tickets again. Then, they'll place a little card above your seat saying that you're checked in and good to go. It all happens pretty quickly so just make sure when you board, you keep your ticket somewhere within reach.
Although I didn't use it, there's a cafe car that offers coffee, drinks, sandwiches, etc. Restrooms are located at the back of each car and are pretty much identical to airplane lavatories. Oh, and there are also certain cars that are "Quiet cars" meaning, no talking on cell phones, dimmer lighting, etc. On the Northeast Regional trains, this car is adjacent to the Business Class car. I didn't realize it until we left, but I boarded the Quiet Car in Penn Station and it was definitely a bit quieter. Nice!
Definitely bring a sweater or something in case you get chilly. It's always best to layer when you're traveling!
Final thoughts:
I loved it! Taking Amtrak was an easy, affordable, hassle-free way to travel and I will definitely be taking the train again next time I travel solo to New York City. You don't have to worry about driving, arriving super early at the airport, waiting in long lines at security, or the amount of time it takes to get into Manhattan from either airport. I got dropped off right in the middle of the city and that was it! Now, if only Amtrak could get me to California in 3 hours… :)