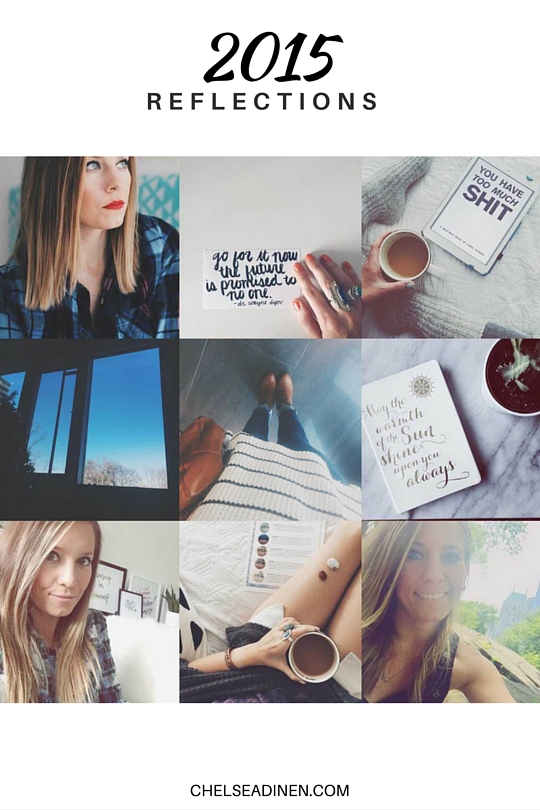 I've been doing a lot of journaling over the past couple months but it's taken me until now to really sit down and look back on 2015. It was a year of highs and lows. Good and bad. And if there's only one way I can wrap up this year, it would be by saying this:
It was the year of self-care.
I really learned what it meant to nurture and take care of my own body, mind, and soul.
The year started off fresh. It felt crisp and full of potential. I was hopeful — for big changes and another big move. But when I ventured out to San Diego in late January, I felt very strongly that it wasn't the right time for me to move there. I had no idea why. After all, I had always planned on returning to San Diego after receiving my life coaching certification, but it wasn't aligning.
And here's another lesson I've learned in the past:
If it doesn't feel right, it's not right.
So, I flew back to Maryland (where I was living at the time) in search of where I was meant to go next. It was always a dream of mine to live in Alexandria, Virginia so I started looking online at rental prices. I came across a beautiful property and just after a big snow/ice storm, drove to 'the other side of the river' for a tour. I fell in love with the community and signed my lease. On the spot. It's something I don't usually suggest and have quite frankly never done before. (I always recommend seeing a couple different places and then weigh out your options.) But I felt really good about this and went for it.
Now, at the end of 2015, my time in that apartment in Alexandria is now coming to a close. I've learned a lot since living within these walls.
In 2015, while living here, I:
Opened my heart up to a deep soul connection.
Honored myself first. If something didn't feel aligned or didn't truly serve me moving forward, I released it.
Really stepped into my own. I stopped apologizing for my goals and desires and did what I believed in, regardless of what others thought.
Asked for help. (I'm a Capricorn so this is generally incredibly difficult for me) but this year I hired a new life coach, saw a chiropractor for the first time, got acupuncture every week, and had multiple readings from intuitives which gave me so much guidance.
Made the decision to leave my job and work on my business full-time(!!!), a leap that was so scary yet so rewarding once I took it.
---
But the greatest experience of mine this year, the one that yielded the biggest transformation, and the one I still look back on fondly and will for many years to come was my time spent in…
New York City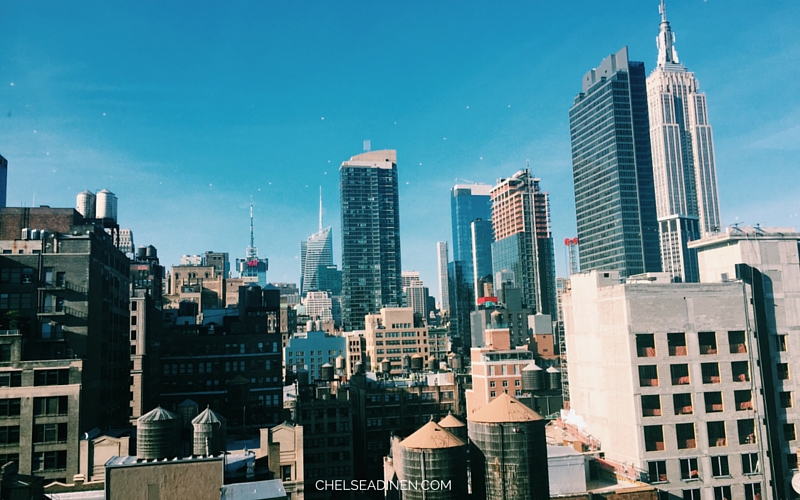 It was in New York City that I was cracked open and found the depths of my spirituality. I saw how spirituality is everything to me. My connection with Source is my foundation. And because of that, I also learned how important it is for spirituality to be the foundation for all things in my life — my self-care, my business, my choices, and my relationships.
I sat in Central Park for hours, in complete bliss. A feeling I had not felt since I left San Diego. In Central Park, I looked around me — at the locals and tourists alike. I felt connected to everything and everyone. I could literally feel my soul expand.
It was a magical city that I had never truly appreciated until that trip. And it's because, instead of venturing to the city with family or friends to go to Times Square or Ellis Island, I was walking through the city alone with just my thoughts and the possibility of everything that was lying ahead. Yet, I never once felt alone there.
There's something really empowering about walking through New York City alone.
It can be an incredibly overwhelming and intimidating city but I think that's why I got so much out of it this time. Whether I was walking through Greenwich Village or sitting on that boulder in Central Park, looking up at the Essex House, I was self-assured. I felt my potential there. I felt my potential. All that I was capable of. And god, it felt good.
New York City empowered me. But it wasn't really New York City that did that. It was through my choice to take the leap and go to Spirit Junkie Masterclass. It was through my decision to walk from Chelsea to NYU and figure it out along the way or to hop on the C and hope that it took me where I needed to go.
It's in those moments when you have no one else to rely on, no one else to turn to other than yourself that you realize your own strength. You realize how you really are capable. Of anything. Anything.
---
And that's what I hope every young woman out there gets to experience.
It's why I so highly recommend moving to a brand new city all alone.
To be thrown to the wolves and come out stronger, wiser, and with some of your life's greatest stories.
And it's because of those empowering moments earlier in the year that I was able to get through several dark nights of the soul that later hit me toward the end.
It was because of the transformation that occurred after doing the deep, soul work at Spirit Junkie Masterclass that I was able to receive all the other wonderful things I listed above, such as gaining the courage to leave my job.
Remember…
In order to see your life shift in the direction of your dreams, you must do the work.
I liken what happens after that to the process of a caterpillar becoming a butterfly. We must go through some of our toughest battles alone. It's not easy. It's often painful. But at the end, we fly. And we leave our old skin behind.
There are years of connection and memories surrounded by those you love and there are years of introspection, self-growth, and solitude. 2015 was the latter of the two.
I'm not sad to see 2015 go.
I'm ready to take what served and helped me and then leave the rest.
To shed this skin and then fly.
Here's to an exciting 2016!
Until next year,
Chelsea