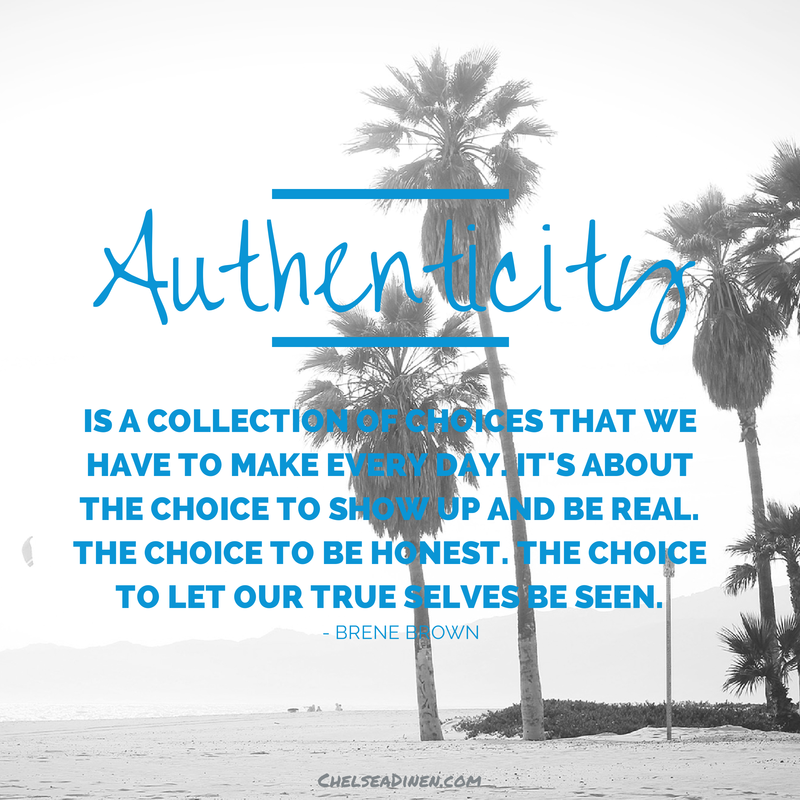 Authenticity – a word that now holds so much value to me in this stage of my life. As I fully come into my own truth, as I live my life as the woman I was truly created to be, as I choose which people to surround myself with and which activities to fill my time with – it is so important to me to be living authentically.
Authenticity is a word that has been bouncing around the personal development world for a while now but I think there's good reason for it. Like in my last blog post, we all can get off track at certain points as we move through life. We steer off course, sometimes intentionally and sometimes subconsciously. Especially for those of us in our 20s, we try on different hats – through various jobs, lifestyles, cultures, and social circles. And as I described in that last post, sometimes we force some of those hats to fit (this could possibly also be a "Cinderella glass slipper" metaphor) when they just weren't meant to.
I've been reading a lot of Brene Brown lately and she is THE teacher of authenticity. She explains how vital it is for us to crack ourselves open, to be real in every moment, every thought, every spoken word, to live courageously with compassion. Because in doing so, in living authentically, we can live fully.
Think about it – we have this life here on Earth to learn and grow and transform into our highest self. Why would we want to live any moment as someone else? As someone with ideals and dreams and thoughts different from what has always been in our own soul, waiting to be expressed and formed and created? Stand tall in your authenticity – your truth. Better yet, FIND your truth. KNOW your truth. LOVE your truth.
Be your truth.
Because you are the only one who can. Isn't it beautiful to realize that no other human being in the Universe is like you? No one else has the same speckles that are uniquely placed in your eyes. Or your unrivaled combination of dreams and innate gifts to give the world. So, now is the time to throw the "shoulds" out the window. Kick the fear of "what everyone else thinks" off a cliff and never look back. Seriously. Choose authenticity instead.
Brene Brown reminds us that authenticity is a daily practice. Everyday, we have to wake up and choose to be authentic. To have the courage and the compassion to allow ourselves to be vulnerable and imperfect. So, take a moment today to just sit and be with yourself. Sit alone and embrace the stillness around you. Quiet your mind for a few moments and just sit there with yourself, allowing your authentic self to come forward. What is he/she telling you? What are they asking you? What is their deepest desire in that moment? And what does he/she want to share with the world?
I encourage you to continue having those quiet moments each day. Take 5 minutes each day to connect with your authenticity – your True Self. The more deeply connected you become, the better you'll be able to connect your True Self with every decision, interaction, and future goal.
Choose authenticity.
To dive further into authenticity, I highly recommend reading The Gifts of Imperfection
 by Brene Brown.
++
To stay up to date on my posts and coaching opportunities, sign up for email updates below or join the tribe on social media!
Facebook | Twitter | Instagram | Bloglovin