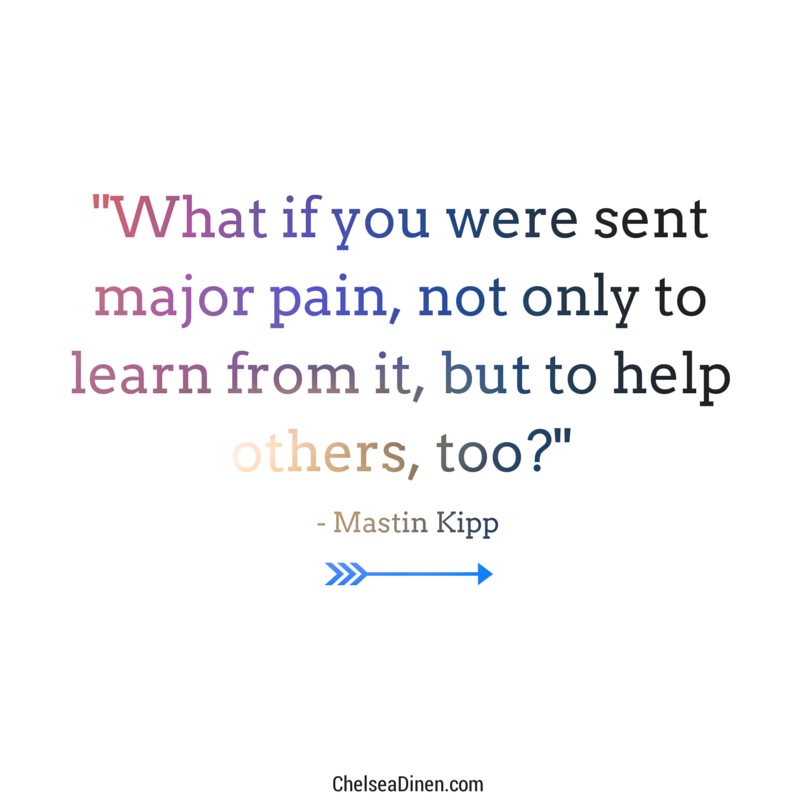 In February 2012, just over 24 hours after being diagnosed with cancer, my mom died and my world was flipped upside down. It was two months after finalizing the end of a relationship I thought would last a lifetime. Like Elizabeth Gilbert says, my failures and disasters were what shaped my soul. They shaped my life… because I made use of them – I made use of my pain.
Before that, I went through life lost and confused. I looked to friends, relationships, society, my parents, even religion to tell me who I was supposed to be because I sure as hell had no clue.
But when my mom died, that all changed. Something in my soul told me, "It's time to start living, Chelsea. Really living. According to you." So, as I grieved, I grew.
I quit my job and moved to San Diego, the place I had been wanting to move for years but didn't because people had told me it was "unrealistic." I went to California with the intention of finding myself and left with the greatest gift I could have asked for at the time: my purpose.
I had read something Mastin Kipp said, "What if you were sent major pain, not only to learn from it, but to help others, too?" and I knew that I was meant to help others. I decided to begin my journey as a life coach and that is what I do today.
Having gone through the Coach For Life certification program and continuing to learn more and more about this beautiful adventure we call life, I continued to see that there was still something missing in this world that I could add to it. After my mom died and the thoughtful dinners and cards and 'thinking of you' messages stopped arriving, there was a dark emptiness in my life. Most of my friends still had two living parents, and I didn't have any sisters who knew exactly how I felt as a now 'motherless daughter' who could not only support me in my grief – but help me re-learn how to live!
So, I decided it was time to be that support and light and coach for others. While I work with many different clients, I have a passion and calling to coach the motherless daughters of the world. The girls and women who've lost their mothers and have decided to spread their wings and live life more fully than ever before. I believe we are a unique family of women – the loss of a mother is said to be the greatest loss women will experience. When we lost her, we lost our sense of protection in this world and we have to go out there and find it for ourselves.
I am so passionate about being the coach to stand next to these women as they go after what they truly want. To celebrate them for how far they have come. To encourage them. Give them a loving push. Ask them the tough questions that will move them through their fear and into fulfillment. I've learned and grown through my losses so that I can be there to help others learn and grow through their own.
I am happily accepting new clients at this time. If this sounds like something you're ready to experience in your life, check out my offerings or shoot me an email! I'd love to support you in this unique time in your life.
(If you're stopping by from Alex Beadon's blogging challenge – thank you! Say hi, I'd love to connect with you!)