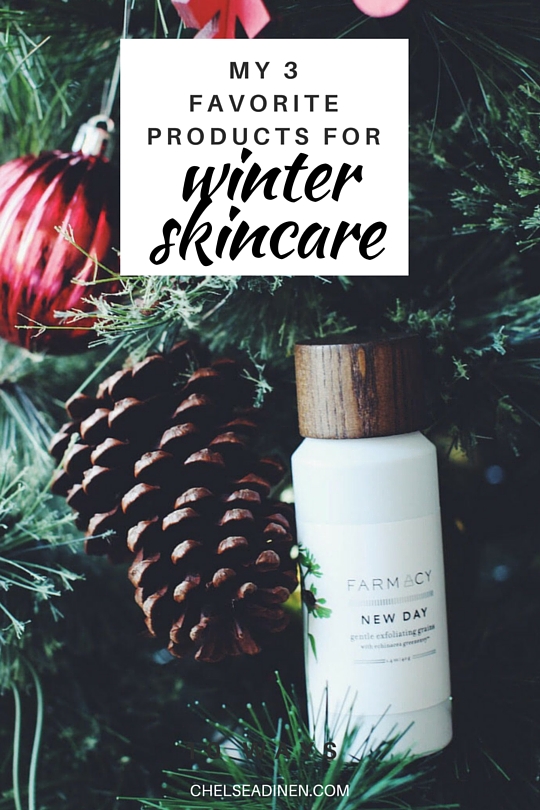 Just when I thought I couldn't find skincare products I loved more, I did! Today I'm discussing all the details about my 3 favorite products for winter skincare.
A big part of what I talk about here on this blog and over on Instagram, is the importance of self-love and self-care. Using quality products to care for my body, both on the inside (wholesome foods and drinks) and on the outside (nurturing products for my skin, hair, teeth, etc.) is a major component of my holistic (mind, body, soul) self-care practice. This is why it's important to me to share with you when I find products I absolutely love.
Today, with the onset of winter and cracked skin and chapped lips, I'm sharing the three products that leave my skin feeling clear, smooth, and oh-so-hydrated in the winter months.
1. Alba Botanica Good & Clean Daily Detox Foaming Cleanser

Apparently I'm really particular about my face cleansers. I'm picky. I am. But, I think I've found my match. Finally. After how many years of washing my face? I randomly picked this bad boy up at Target, (but you can also find it on Amazon right here) and it lives up to its word.
It's creamy and foamy and washes my skin unlike any cleanser I've used before. Seriously. I massage this all over my face and then use my Clarisonic Mia and it leaves the bristles on my Clarisonic so white and sparkling clean when I rinse the soap out. Again, I've never seen anything like that before so it speaks volumes about how effective this cleanser is at removing impurities.
I use about a dime-sized amount of product to wash my face, so a little bit goes a long way. My skin is left feeling entirely clean, smooth, fresh, and most importantly — healthy. If you're looking for a new cleanser, I highly recommend this one. My life has been changed.
---
2. Farmacy Beauty NEW DAY Gentle Exfoliating Grains with Echinacea GreenEnvy™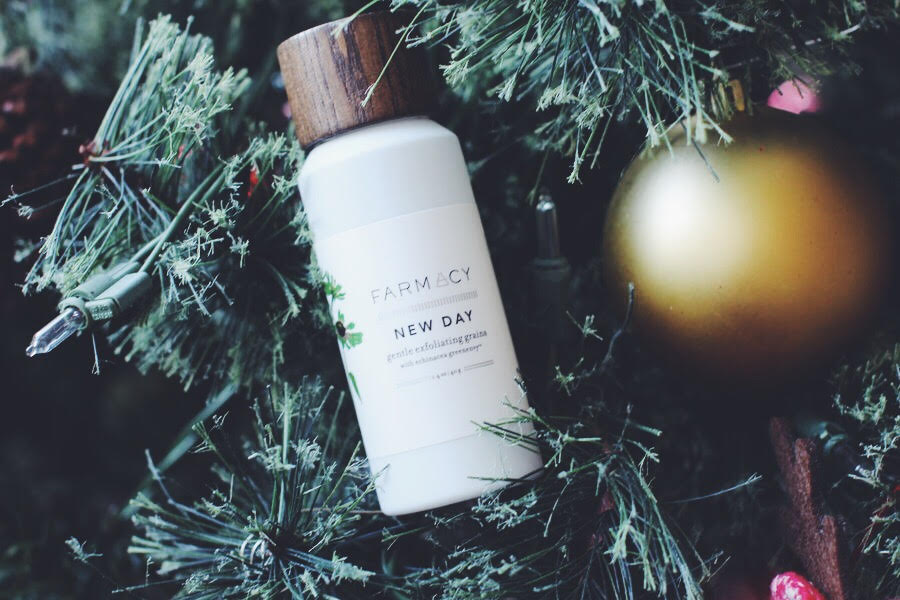 The Farmacy Beauty Exfoliating Grains pack in a lot of power. Since this product is technically a cleanser and exfoliant combined, I generally use it about every other morning.
First, you pour the cleansing grains into the palm of your hand. They are a fine powder so you mix them with a few drops of water to create a creamy paste. Unlike other powder exfoliants I've used before, this one really does form a lovely paste consistency that spreads easily and evenly onto my face.
The exfoliating grains are truly one of the most gentle formulas I've tried. I love companies who use natural, quality ingredients. In fact, those are the only companies whose products I use these days. Farmacy knows what they are doing with this one. Here are some of the amazing natural ingredients used and how exactly they help your skin:
A unique patent-protected variant of Echinacea Purpurea, GreenEnvy™ contains the highest known concentration of the phytochemical Cichoric Acid, a potent natural antioxidant which helps protect and firm the skin by inhibiting the enzymes that break down collagen
Natural Cranberry Seeds provide a deep clean to lift away surface debris and promote skin clarity.
Rice Bran Powder loosens dry skin cells and absorbs excess oils and surface impurities.
A complex of White Willow Bark, Carrot, Green Tea and Marshmallow soothe, protect and calm the skin.
It's incredible. I strongly, strongly encourage everyone I know to use natural, quality products like those from Farmacy instead of simply buying what's most convenient or on sale. Remember, skin is the largest organ of the body so it does matter what you put on it.
End rant :)
After rinsing the exfoliating grains off my face, my skin is left feeling like velvet. Velvet, I tell you! It's not raw or squeaky clean. It's velvet. After several weeks of using this product (coupled with an amazing moisturizer), my dry, flaky fall/winter skin is gone. You can't make that stuff up!
That beautiful packaging doesn't hurt either. I mean, doesn't it look like it just belongs nesting in your Christmas tree? ;)
You can find Farmacy in stores at Sephora or by shopping online at farmacybeauty.com
A 3.5oz bottle of this product (which ought to last a long time!) costs just $30! Farmacy was kind enough to provide me with a sample of this product which is 1.4 oz so believe me when I say that a little goes a long way!
---
3. OZ Naturals Sea Infused Herbal Moisturizer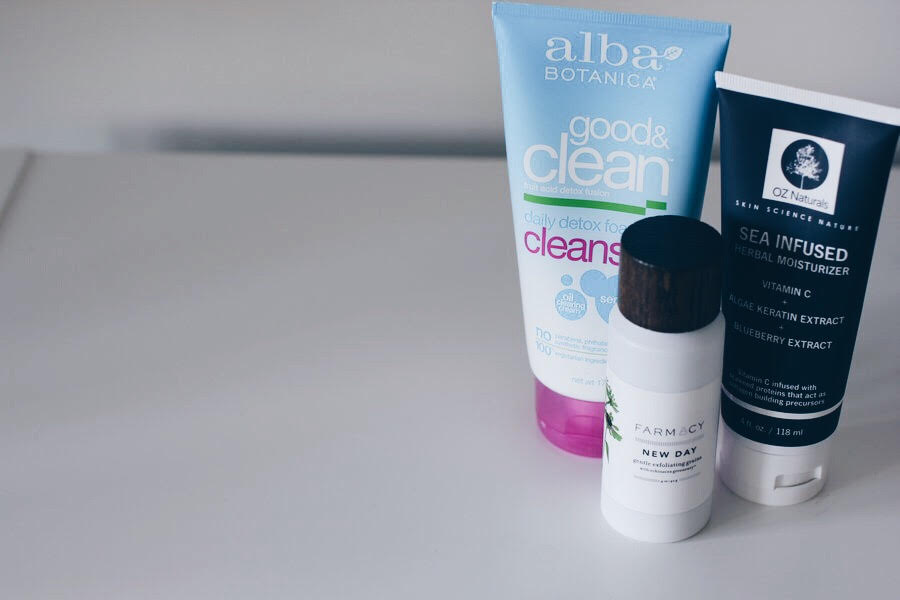 If you don't know already or missed this post about my nighttime beauty routine, I'll say it again… I LOVE OZ Naturals. I love what they stand for. I love their products. I love their customer service. I love them. And the main reason I love them so much is because of what OZ Naturals does for my skin. The natural, cruelty-free ingredients nurture my skin and have caused a noticeable difference in the quality of my skin.
As soon as the weather changed and the air started getting crisp, my skin started getting DRY. My face was constantly showing flaky, dry skin on my cheeks and nose and my skin was desperately seeking help. Enter OZ Naturals Sea Infused Herbal Moisturizer. That name alone made me want to try it immediately.
Check out these ingredients:
Organic Sulfur — enhances cellular permeability and acts as a natural, healing solvent, helping toxins to move out and nutrients to move in.
Seaweed Proteins — act as collagen building precursors and raw cold pressed plant lipids lubricate and hydrate the skin for rapid repair and moisture restoration.
I use the moisturizer in the morning before putting my makeup on and at night after washing my face and my skin feels so incredibly smooth and hydrated. I think I can honestly say that this is the best moisturizer I've ever used. Whoa!
---
What beauty products are you adding into your winter self-care routine?
*In the spirit of full disclosure, there are affiliate links in this post which means that I may get a small commission if you decide to purchase anything mentioned above. I only recommend products that I use and love myself, so I know you'll be in good hands!