This will be my sixth Christmas without my mom. 2011 was my last Christmas with my mom, though none of us knew it at the time. Less than two months later, she was gone. Moving through and living with grief became something I wrote about often over the first few years but I realize now, it has been a long time since I've shared about my journey through grief, especially with grief during the holidays. I'll start with this:
Christmas is the hardest.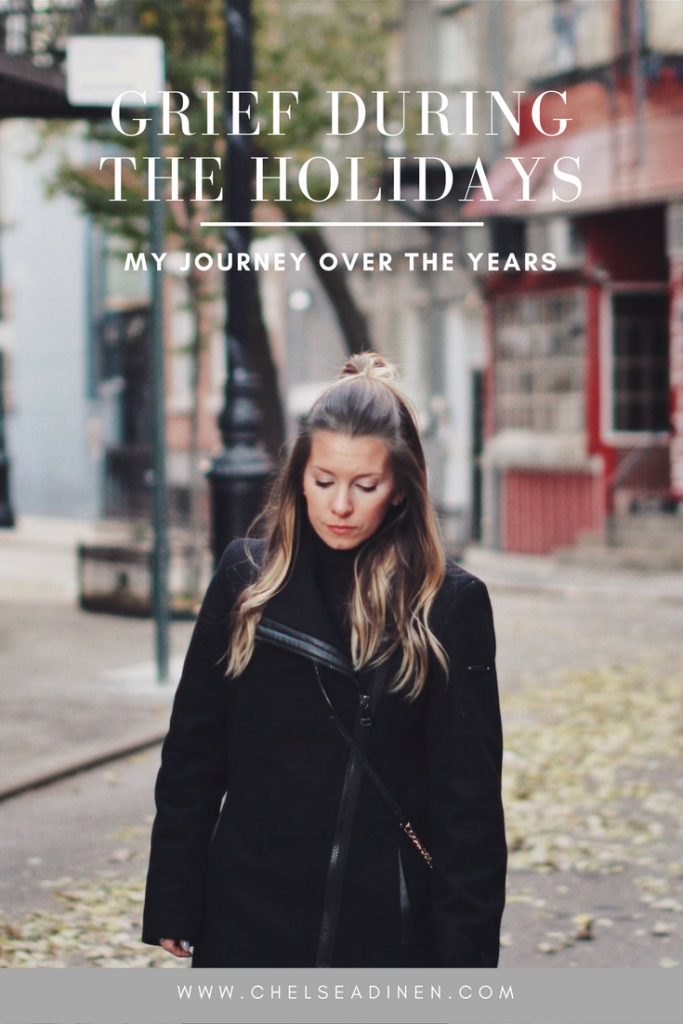 I struggle a lot with my birthday as well, just two weeks after Christmas. Oh, and don't even talk to me on Mother's Day. But Christmas, because of the length of the season and all the magical festivities more or less being thrown in your face, AND because my mom was a beautiful decorator and always made the season and our family home feel that much more special, it is absolutely the hardest time of year for me.
2012
My first Christmas without her, I was still in shock. Two weeks before Christmas, I had moved from the East Coast (D.C.) to San Diego. I had flown home to D.C. for Christmas to be with my family but I think because of my move and the fact that it hadn't been a year yet without my mom, none of it had really hit me. Christmas that year was weird and tough and I remember just wanting it to be over. This is something I had written about Christmas that year:
"The numbness still wearing off, coupled with the pressure of trying to make it a good Christmas despite the empty chair at our dinner table, meant the utter pain was not as evident. It was masked. We all tried extra hard to feel the love she created every Christmas."
2013, 2014, and 2015
"Bah-humbug" best describes my overall mood. I would attempt to do festive things and show up to work holiday parties. In 2013, I wrote this:
"I feel double the amount of pain as last year. I'm no longer numb. I could feel the deep, pulsating pain as it started creeping in around Thanksgiving. I could start to sense it in my other family members too. My parents' house went undecorated. The Christmas tree remained unlit. The Spirit of Christmas was nowhere to be found and every time "It's the Most Wonderful Time of the Year" found its way onto the radio, I found myself rolling my eyes."
Then, 2014 was the first year I got my own Christmas tree. During prior Christmases, I lived on the West Coast and so 2014 was the first year I was living back in the D.C. area in my own place. Because of that, I think it was the first year I really felt new traditions were being made, slowly.
But to be honest, I don't remember much about the Christmas season during those years. Nothing felt "special" or memorable.
Seeing all the "holly, jolly" Christmas posts on social media were difficult. All of the "Last-minute Gift Ideas for Mom" emails made me want to throw my computer out the window. Life for me had changed. Dramatically. I had lost the single-most important person in my life. If you had told me 2011 was the last time I'd watch my mom unwrap her gifts and be able to tell her "Merry Christmas" and squeeze her extra tight, I would never have believed you.
She was taken so suddenly from my life that it took me years, Christmas after Christmas, to process what the eff had happened. To be completely honest, there is still a large part of my heart that is in utter disbelief that my mom is dead. That she's not going to be here on Christmas morning, even though she hasn't been here for the past five Christmas mornings. It's still incomprehensible.
So, needless to say, for most of the years since she's been gone, I've been angry. Wishing desperately I could have another mother/daughter Christmas shopping extravaganza. Another season to 'ooh and ahh' over Christmas decorations and to help my mom wrap presents.
Anger. Ah, yes. The second stage of grief. On repeat.
2016
I was still slightly angry, but it came in waves. I suppose that year, it was more bitterness. It was also the first year since my mom passed away that I didn't go home for Christmas.
2017
This year, I'm mostly numb. It doesn't feel like Christmas. Not in the slightest.
It might as well be July for all I care. Living in Southern California where we don't have seasons hasn't helped.
At this point, having a mom on Christmas practically feels like another lifetime. A distant memory. Enough years have passed now that "new traditions" have begun. Christmas looks so entirely different from how it did when my mom was alive. You move away from home (again), your family dynamics change, siblings have their own families, and Christmas changes.
I've noticed that I no longer listen to Christmas music. I have my own traditions where I decorate, sip on egg nog and have my favorite Christmas movie playing in the background as I hang the ornaments on my tree. But it's a hollow feeling. There's no magic or Christmas spirit in the air. And while there's no longer any feeling of anger or resentment, it's now just a feeling of hollowness, indifference, apathy.
---
The truth is, there's no one particular way Christmas will look after you lose your mom. For some families, it brings you closer together. Your traditions and commitments to family strengthen. For other families, things begin to crumble; to fall out from underneath you, year after year.
It's easy to say, "It gets better with time," but that's not always the case. To say that it gets "easier" has not been my experience. It just gets… different.
Life does go on. But it's never the same. You can create new traditions. Travel has helped me a lot too, especially traveling during the holidays. I now spend Thanksgiving in New York City and Christmas in Palm Springs. And though I have found that starting new traditions does help me manage the pain and the grief I feel around the holidays, the void is still very much present for me at Christmastime.
The only advice I can give is to experiment. Try honoring old family traditions and then try creating new ones. Find what works for you. Find what feels genuine and authentic to your family, your lost loved one, and your future moving forward in grief.
Living with grief is an ongoing process. It's not something that goes away. It becomes something that hits you in waves. Those waves of grief might hit less and less frequently over time, but the triggers will still be there. Honor your grief. Write about it. Sing about it. Talk about it. Share it in your journal or with someone you love and trust. Even if it's just your pet.
Maybe one Christmas I won't feel numb. But for now, I accept that this is where I am. This is my reality as a motherless daughter, feeling grief during the holidays. I share these truths in hopes that for those of you feeling the utter devastation and loss that envelopes you during the holiday season after losing a loved one, you will find some comfort here. That you will know you're not alone and that it's okay to feel this pain… or to feel nothing at all.
And, as always, if the pain becomes unbearable or instead, the feelings never seem to return, turn to a professional who's there to help you find your footing again.
This holiday season, I am sending you the biggest virtual hug I can. Wrapping you up in warm thoughts.
Love,
Chelsea
P.S. I'm currently running a holiday special on my eCourse, Soul-Centered Moving: A Spirited Course in Moving Cross Country Alone! This course is for you if want to learn the ins & outs of moving to a new city. It's currently on sale through the holidays for over 50% off!