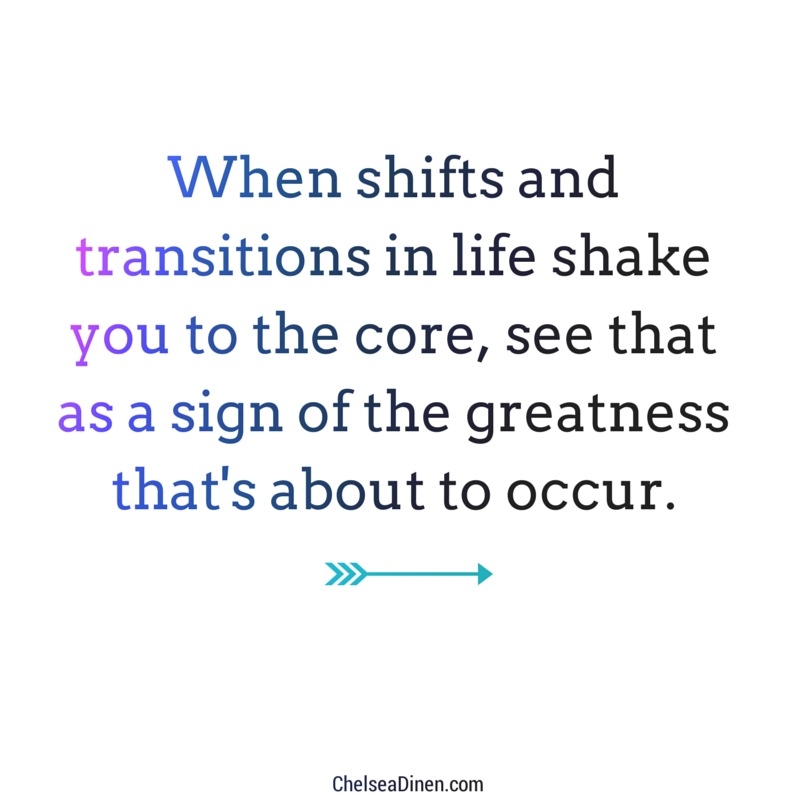 Unexpected shifts and transitions and transformations. Let's talk about them. They're not always the smooth transitions with fireworks and applause that we picture them to be. You don't just wake up one day with the idea, "Hey I'm gonna start my own business!" then give it a couple weeks and, voila! Oh, no.
In fact, the major shifts and transformations in my life have felt a little more like earthquakes. I'll be powering through projects, goals, and life in general. But then Mother Nature, the Universe, a higher power takes over. You think your life is going one way and instead Spirit says, "Gotcha!" And it shakes you up pretty good. Often to the point where you find yourself collapsing onto the ground saying something along the lines of, "What IS this?!"
Sound familiar? I've been going through one of those monumental shifts lately. And, whew, it has rocked me. I couldn't really even make sense of it until just now. Maybe it's because Halloween is right around the corner, but just go with me on this metaphor:
I am like a werewolf right now. Going about life, doing what I need to do, when something inside me starts to stir. And burn. And pulse. And it starts to expand. I realize that this thing inside me, while it's a part of me, it's bigger than what I am now. That's what makes this transition more trying than some of the others. It no longer fits within my frame. I feel conflicted, blocked, and entirely out of balance while I make this transition from what I am to the even stronger, more capable being that I am becoming.
This thing inside of you, this energy, this passion, this innate gift… It's been in there all along. Growing and expanding. And now, finally, it needs to break free.
So you start to morph. This wild, natural energy is ready to break its way out into the world where it belongs instead of being hidden away. Things twist and crack and push and pull while you make this transition and because of this, it can be a time of discomfort, unease, and even confusion. It's something that has always been a part of you but now that the wild energy is finally able to be put into the BE-ing of life (and no longer be hidden away) you must learn to adjust.
During powerful transitions, it's important to remind ourselves that our new energy does not want to be tamed. We must honor that. This new energy is the fire that was once burning deep within us. It is passion. It is light. And it is love. It's a large piece of our purpose and we must allow it to fully come into its being.
Going back to the visualization of a werewolf transitioning – this major shift, ah-ha moment, period of transformation – it wasn't a planned one. But, whether we think we're ready or not, the Universe knows. We're given obstacles and detours, failures and losses not only to teach us, but to grow us. So, believe and know and trust that you are ready for this transition. It may be uncomfortable and shoot, it may even be inconvenient at the time, but you will grow.
When shifts and transitions in life shake you to the core, see that as a sign of the greatness that's about to occur.
Honor the power of the energy that is coming forth instead of resisting it. And remember that this transition, although sudden and unexpected, is necessary for your growth and forward movement along your journey.
While it may be uncomfortable for the time being, I know that once I fully 'transition' and find myself on the other side of this, I'll be grateful and free and will be living even more aligned with my truth.
Have you experienced any of these powerful, electric shifts and transitions in life? How did it feel once you stopped resisting and instead honored the new energy? How are you different now because of it?