Having moved coast to coast on my own a total of 5 times, today I'm talking with you about the 5 ways moving cross country alone has changed my life.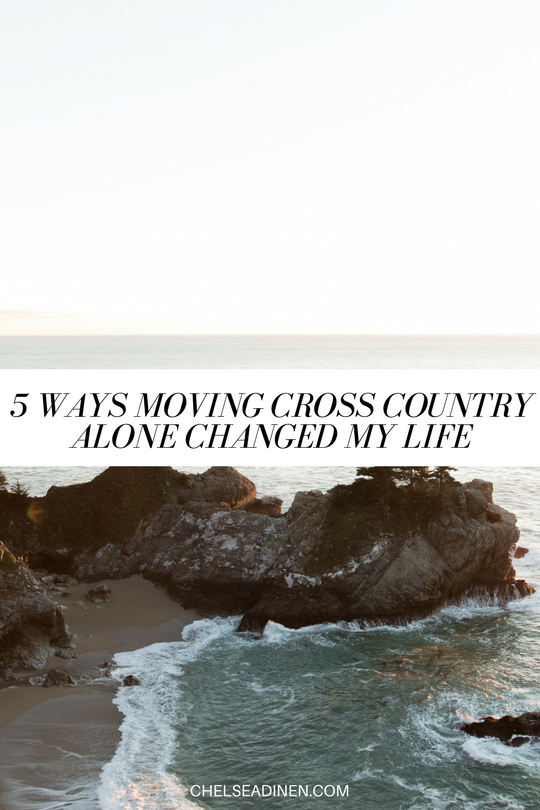 Don't get me wrong — moving thousands of miles away from home is grueling. I mean, moving is said to be one of the most stressful life events you can put yourself through. So, I'm sure you're wondering… why on Earth did you move not just once, but FIVE times, across the country, Chelsea?!
I suppose that's where you'd find the proof that it has changed my life for the better. That I wouldn't be who I am today without every single one of those moves. Five cross country moves in six years and living in four different states by myself is an experience that shapes you, teaches you, and changes you forever.
Related reading: What to do when you're stressed out about moving
---
While I wouldn't change anything about my journey and I can't imagine subtracting even one of those moves from my story, the truth is…
One long distance move on your own will absolutely change your life if you're ready for it to.
Generally, people don't uproot their life just because they're bored and have nothing better to do. We all have our own specific, sacred reason. But usually, it's because we are seeking a big change, the desire to live outside our comfort zone, or feel the pull in our heart for a new lifestyle in that city we've always dreamt of.
Some people never make the jump. And some of us do.
This post is dedicated to the people who've been feeling that pull.
Deep down, you know moving to a new city, however far away, has the potential to change your life. While I'm sure your life may change in other ways, I wanted to share 5 of the major ways my cross country moves have changed my life.
You can also watch this video directly on YouTube here.
---
Related Reading: Get access to my Moving & Manifesting Workshop to learn how to create your dream lifestyle in your dream city!
So, what did you think?
I'd love to hear your takeaways in the comments below! What deep inner changes are you hoping to experience when you move?
++
If you need help and support with HOW to make your cross country move, I have an online course for that FILLED with all of my expertise and tips called Soul-Centered Moving!
Sign up for Soul-Centered Moving today.