Update: My eCourse, Soul-Centered Moving: A Spirited Course in Moving Cross Country Alone is now available! In this self-paced course, I go into great detail about ALL facets of moving and divulge many of my personal experiences, step-by-step advice, and lessons learned from moving cross country 5 times on my own — this includes everything from how I saved money, found a new home, and made new friends, to how to work through the fear of starting over as you begin a new chapter. I've created workbooks, checklists, timelines, and visualizations to help you design your own successful move to a new city. You can get the course here!
---
Exactly two years ago, I drove away from the home I had made for myself in San Diego. For those who know me or who read my blog, there's one thing that's very clear about me. My time in California changed my life.
Becoming a San Diegan had been a dream of mine since the moment I first landed there on vacation a decade ago. It's because San Diego spoke to me in a way no other city in the United States ever had. For once in my life, I felt entirely at home and entirely alive.
I knew I was going to make San Diego home one day.
And so I saved my money and kept my focus on that beautiful city in Southern California. Pictures lined my vision boards year after year.
And then finally, eight months after my mom suddenly passed away, I signed my lease for an apartment on a quiet street in San Diego where you could hear the bell tower chime and the palm trees rustle in the breeze.
My time in San Diego wasn't necessarily ideal. There were experiences that challenged me, hurt me, and taught me the hard way. But there were more experiences that helped me wake up to the truth that was my soul. It was the first time since the end of a relationship and the death of my mother that I was able to turn inward and learn to love myself.
It was the match that struck the fire of personal development that is now my guiding light through life.
It was my way of finding the beauty that can come from something so tragic, if we're only willing to shift our perspective and trust, trust, trust.
It was proof to myself that I am capable of all things when I stay connected to myself and the power of the Universe.
My experience in San Diego is the reason I've created this business to help support and guide other women who feel so deeply called to move to a new city on their own.
It's because I've seen the change, the growth, the results that come when you do something as courageous as following your heart entirely on your own. When you work through every ounce of fear holding you back, and every naysayer, and every doubt and you go out there and experience something as life-changing as moving to a brand new city…
Your life will change.
However, it wasn't just the experience of living in San Diego that changed my life.
It was also the experience of driving cross country.
So, today I went back and looked through the pictures I took during my last second-from-last cross country move. I reflected on my time spent on the road and how much I've grown and transformed since my first cross country move back in 2010.
Aside from California, my absolute favorite states to drive through are Arizona and especially New Mexico. You'll see why in the pictures below. Here's a little sneak peek into my fourth cross country move: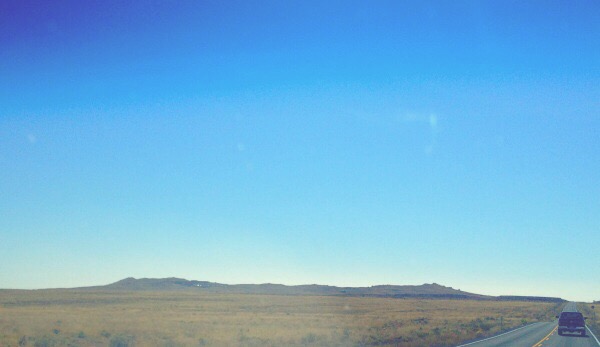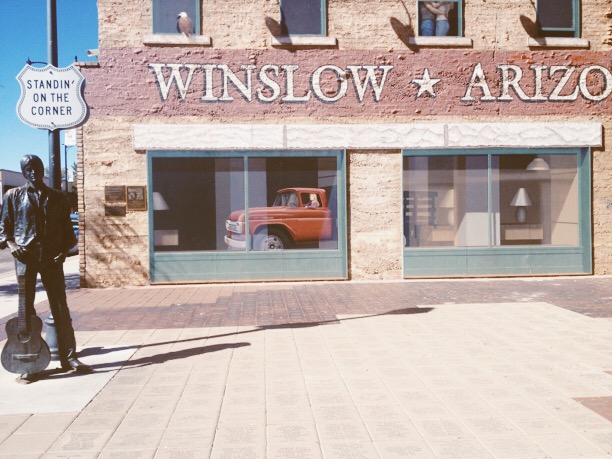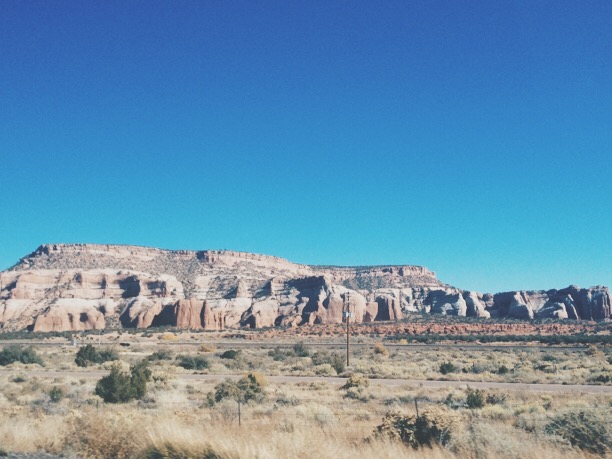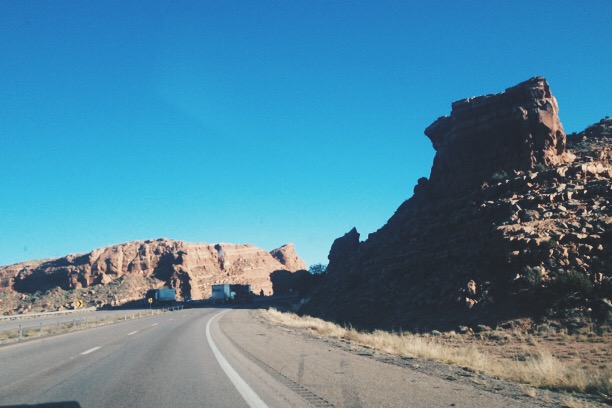 It's like that Lifehouse song:
"How can I stand here with you and not be moved by you?"
How can you not be changed after seeing America up-close and personal?
The road changes you.
It deepens you.
It gives you more layers.
It shows you all that's out there and all that's been out there years and years before we can even comprehend.
Growing up on the East Coast, you don't get the opportunity to see land that's completely untouched, for as far as the eye can see.
So it took my breath away to drive through the middle of the desert and see it in all its raw beauty. Or to stop off Historic Route 66 to see the abandoned gas stations (some still with the old fuel prices showing!) and buildings and cars left there from mid-century America.
I can't tell you the number of times I'd see something or pass through a town, like Tucumcari, and later find myself Googling the history and stories behind them.
Not to mention the changing terrain, weather, and cultures as you drive across the country. That is hands-down the most fascinating thing for me. You wake up one morning in mild, rocky Phoenix and go to bed the next night in flat, chilly Eastern New Mexico.
You cross paths with other cross country travelers and movers and meet locals who've never left or who are native to the land. It's incredible. And there's no way I'd rather move than making that long, sometimes arduous, but beautiful drive.
Was it hard to leave San Diego? Absolutely. (And for those who are wondering HOW I could leave that amazing city, here's your answer.)
(It's also worth noting that since this post was written, I have now moved back to San Diego!)
Was the drive from the West Coast to the East Coast difficult at times? Absolutely.
But I wouldn't trade it for the world. Every single one of my cross country moves was eye-opening, each in different ways. And now I can't wait for the next one :)
---
And now, 8 tips from my last cross country move: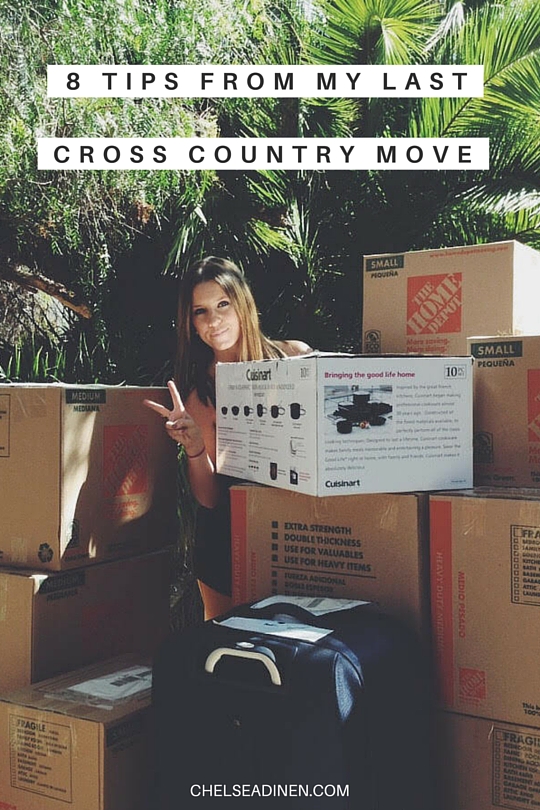 Don't ship everything via FedEx.
All those boxes you see me pictured with above? They were allll shipped via FedEx. It's a legitimate way to move your items when you're not moving furniture/large items. You simply schedule a large pick-up via FedEx and hope you beat the boxes to your destination. It worked best for this trip because I didn't have much time to put into making arrangements, but I won't do it again. For starters, I feel horrible for the poor FedEx workers who had to carry all those boxes! Secondly, there were many broken objects when I unpacked everything (which I knew was a big risk in using this method) And lastly, one box mysteriously got lost, was relocated to Utah when FedEx called to let me know and shipped it to my new home… a year later. In the end, it still worked out okay and was definitely the easiest way at the time.
Use Yelp to help you find the best local food just off the freeway.
About 30 minutes or so before we'd want to stop for food, I'd jump on Yelp and read the reviews for restaurants in the next town. On this trip, we ended up passing through the small town of Gallup, New Mexico right around lunch time. I found El Matate Tamale Factory on Yelp and the reviews from other travelers were amazing. We drove through town, parked outside, and were greeted with smiles by two of the family members who own the restaurant as they were walking out. It ended up only being us and the woman who worked there. It was like getting an authentic, home cooked meal in someone's home. She even had authentic Turquoise jewelry for sale! WHAT!
You still won't have cell phone signal throughout the panhandle of Texas.
Nothing changed here ;) Zero bars.
The time zone changes are a bummer when going West to East.
Crossing into a new timezone means you lose an entire hour. Every. Single. Time. So, unfortunately, this makes your trip longer than when you travel West.

Don't let the time lost from traffic and road closures make you feel pressured to make up for the lost time.
I-40 in Texas came to a complete stop for nearly an hour after a horrible truck accident. On top of that, not having cell signal makes it difficult to check for any news updates on the traffic, weather, etc. while you're stuck there. The not-knowing can prove to be pretty unsettling until traffic finally gets moving again. But stay patient and take it easy. You will get where you're going eventually. It's more important to be safe and not push yourself.
You might not have enough time for official tours of famous landmarks, but that doesn't mean you shouldn't pull off the road for a quick picture and/or self-guided tour!
We randomly decided to take the exit in Arizona for the meteor crater and, although we didn't go on the tour, the pictures I took on the access road, were some of the best of the entire trip. Do try to assess ahead of time how much the side trip will set you back.
Night driving is not always a good idea.
While I know some people prefer to drive at night because there are less cars on the road, it can be much more dangerous. Not only can driving at night during an exhausting cross country journey play tricks on your eyes and mind, but you also have the added dangers of drowsy drivers, poor visibility, and limited access to resources (restaurants, rest stops, roadside assistance, etc.) Generally, in the Fall/Winter months, I didn't drive past 8:00-8:30PM.And one of my favorite tips, which this cross country trip proved again…
When you get the opportunity to take the scenic route, take it. Always.
You'll see signs every so often on the freeway indicating a 'scenic route' or 'scenic view.' For example, as you're driving into Sedona, there's a scenic road that's just parallel to the freeway where you can park your car and get out. It offered the most stunning view of Sedona. I will never forget the way I felt standing there looking out at the beautiful scenery.

++
Chelsea