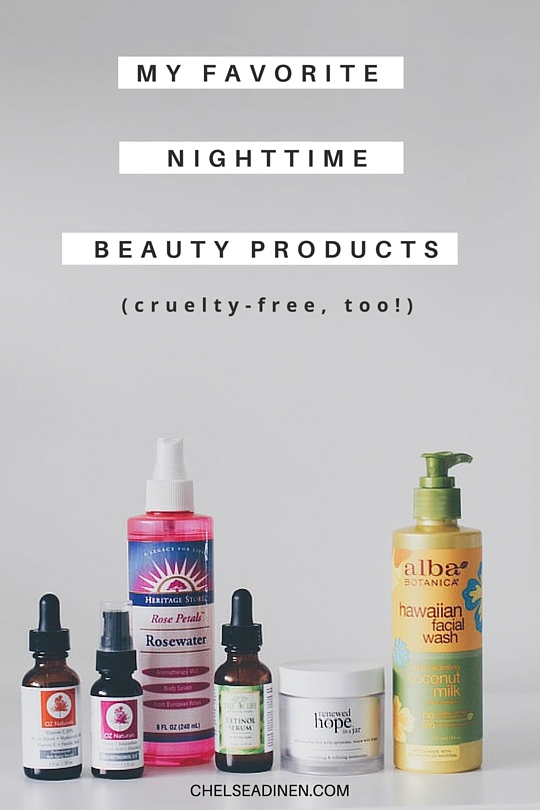 I love finding new beauty products to add to my daily routine. After trying many facial cleansers, night creams, toners, etc. I finally found a nighttime beauty regimen that I love and that has yielded amazing results for my skin.
Today I'm sharing with you the products I use on a nightly basis. It's been said that our skin cells regenerate at a higher rate at night while we are sleeping than during the day. Plus, at night, we don't have things such as makeup products or the sunlight and UV rays that may interfere with the effectiveness of our beauty products.
Here are the products I've grown to love most (and why) and how to get your hands on them! Also, I wanted to note that each of these products is NOT tested on animals. (A requirement of mine when purchasing beauty products.)
(Products will be reviewed from L to R in photo above)
1. OZ Naturals Vitamin C Serum
The OZ Naturals Vitamin C Serum changed my skin. When I first started going to acupuncture several months ago, my acupuncturist recommended various natural supplements and remedies for me specifically. He recommended two products for my skin: Vitamin C serum and Retinol serum. OZ Naturals is a company that has always come highly recommended to me and their reviews on Amazon were amazing. I ordered their Vitamin C Serum that night and started using it two days later (Thanks, Amazon Prime!)
I started noticing results within the first week. The major difference I noticed was how SMOOTH my skin became, not only visually but to the touch. My skin went from being a bit rough to velvety smooth in just days. And after a few weeks of use, the effects were even greater!
The one thing I will note is that a little bit goes a long way with this stuff. It's a very liquidy product, so it's quite easy to overuse. At first, I was applying this in the morning before I put on my makeup and then using a couple drops and smoothing it into my skin at night as well. It nourished my skin so much that I began to break out a little. So, I stopped applying it in the morning, and only used one generous drop from the eyedropper at night, making sure to really massage it until it was completely absorbed and that made all the difference.
Now, if I go a day or two without using their Vitamin C serum, I can tell. My face looks dull and tired without it!
2. OZ Naturals Retinol Serum
Are we seeing a trend here? When I find a cruelty-free company with quality products, I tend to want everything they make! I actually got really lucky this time and OZ Naturals sent me their Retinol Serum to try. But, don't worry, I'm giving you my honest 100% opinion on this product.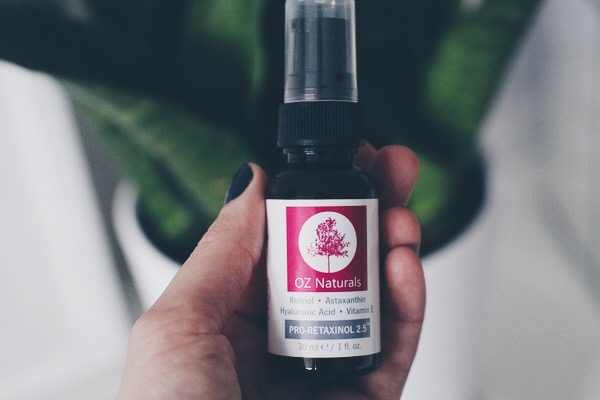 Let's start with what I didn't like:
The dispenser. The retinol serum I had been using before (and even the OZ Naturals Vitamin C serum) came with an eye dropper which allowed me to control how much of the product I wanted to use. Unfortunately, the OZ Naturals Retinol Serum I got came with a pump. It might not be a big deal to everyone else but I love the ease of using an eye dropper. I found that the pump ended up wasting product. In fact, the first time I used it, the product squirt all the way across my sink! (Oops!) And that wasn't the only time the pump got out of control. Bummer.
Now onto what I loved:
The texture of this product is amazing. Retinol is a somewhat thick, jelly-like consistency and this particular retinol smoothed onto my face like silk. Silk! It wasn't sticky at all and left my skin feeling absolutely soothed (probably because of ingredients such as rose hips, green tea leaf extract, and chamomile.) Amazing.
I concentrate Retinol around my eyes, forehead, and the area between my eyebrows as those are the areas most prone to show aging. I have noticed a considerable difference in the fine lines on my forehead — results I had not seen with the Tree of Life Retinol. Additionally, the fine skin around my eyes is now noticeably thicker and so smooth. Boom. Sold.
Note: While I didn't have any issues, retinol can be extremely drying for some skin so be sure to start with a small amount and apply a moisturizer after.
So, all in all, I love the OZ Naturals line of anti-aging products, will continue using them, and highly recommend them to all! High quality, effective, long-lasting. Plus, the combination of these two products has greatly improved the look and feel of my skin.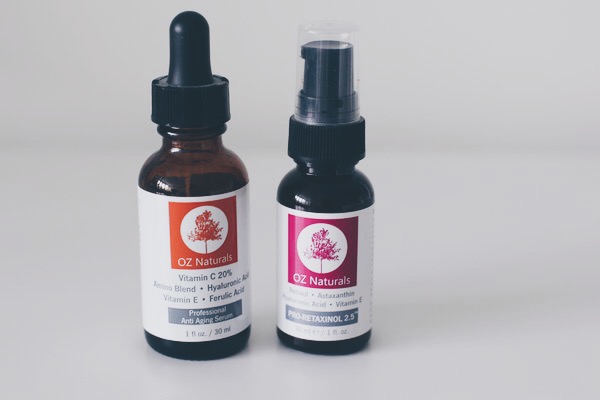 3. Heritage Store Rose Petals Rosewater
This Rosewater splash is divine! I had read about it on Healthy Crush and that it helped give you glowing, youthful skin. When I found out I could get an 8 oz bottle of it for under $10, I knew I had to try it. I was about to be pleasantly surprised when the product arrived.
Not only does this rosewater smell absolutely heavenly, but it is made of Vor-mag Water, "water that has been vortexed and magnetized to raise the energy to a higher vibration that they believe to be more beneficial." I just took that straight from the bottle itself so believe me, this company is awesome. PLUS, if you know anything about Edgar Cayce (famous psychic and known as the "father of holistic medicine) this rosewater was often recommended in his readings.
So, aside from all of that fascinating information, this rosewater is the cherry on top of my nighttime beauty regimen. After using all my other products, I simply spritz this on my face. It's absolutely refreshing and soothing to my skin. This is also a product that I use in the morning. After cleansing my face, I spritz this lightly on my face about 2-3 times, and then again about 5 spritzes once my makeup is applied to set it. The rosewater mist leaves my skin with a dewy, glowing look. I love it!
4. Tree of Life Retinol Serum
Before trying the OZ Naturals Retinol Serum, I was using the Tree of Life Retinol Serum. First, since I've been talking so much about Retinol, let me explain what it does for your skin. Retinol prevents the breakdown of collagen and encourages the growth of new collagen for skin firmness. It reduces the appearance of dark spots, hyper pigmentation, and helps plump fine lines and wrinkles. So, it is indeed amazing. It's also said that retinol can take up to 12 weeks for you to see results. So, be patient.
I love this serum for its eyedropper! (See #2 above) It allows me to control exactly how much I want to use. I'll generally start with about 1/3 of the eyedropper and pat that into the areas around my eyes, forehead and smile lines. The one downfall of this particular formula is that it feels a bit sticky as I apply it and as it absorbs onto my skin. The scent of the this Retinol is neither here nor there but it's definitely not the greatest smelling product in the world.
5. Philosophy Renewed Hope in a Jar
I use the Philosophy Renewed Hope in a  Jar as my daytime and nighttime moisturizer. I love it because of its delightful flower scent and because of its light, subtle feel. I've never been a big fan of moisturizers because so many in the past have left my skin feeling heavy and oily. But when Gabby Bernstein gifted this to me, I fell in love right away.
First of all, the floral scent reminds me of my mom as she loved Philosophy products. So, every time I use this product, I'm immediately reminded of her. Second, I love that I only have to use a small amount to keep my skin perfectly moisturized. My skin doesn't break out, get oily, or feel sticky. Hence the name of the product — it truly is "hope in a jar."
I usually dab a small amount around my eyes before putting my makeup on in the morning and it doesn't affect the hold of my makeup throughout the day at all, which is an added bonus. I'm very impressed with this moisturizer and, as always, love that a little bit goes a long way so the product lasts a long time.
6. Alba Botanicals Hawaiian Coconut Milk Facial Wash
I'm a big fan of Alba Botanicals. I use their Hawaiian Coconut Milk Conditioner as well as the Pineapple Enzyme Facial Wash. Their products have been highly, highly effective for me. And, of course, they're cruelty-free which makes me love them even more. They're also moderately priced so this product won't break the bank.
Their Coconut Milk Facial Wash smells amazing! It's a creamy consistency (almost like a lotion, which I tend to shy away from) but it left my skin feeling squeaky-clean. Literally. I also love that the scent is not potent. Instead of smelling like you're putting suntan lotion on your face, it's a gentle mix of coconut and mint, perhaps? I did notice that it doesn't remove my makeup at night as well as the below product (my favorite) so this might be a better product for the morning.
7. Alba Botanicals Hawaiian Pineapple Enzyme Facial Wash (not pictured)
As I mentioned, I use both the Alba Botanicals Pineapple Enzyme Facial Wash as well as their Coconut Milk Facial Wash above. I have tried so many facial washes throughout the years in search of the perfect one for my face. Most have left me disappointed in one way or another. However, the Pineapple Enzyme Facial Wash is one of my absolute favorites.
It's a pore purifying cleanser that leaves my skin feeling ever so clean without over-drying or over-scrubbing my skin. My pores feel clear, my skin feels rejuvenated and fresh.
The scent of this Pineapple Enzyme wash is extraordinary, if you couldn't already guess. It smells just like fresh pineapple which is an added perk in the mornings if I'm using this cleanser! You also get a lot of product. One bottle of this cleanser lasts me at least three months. What I love most about this cleanser, and this is a personal preference, is that it foams the perfect amount! I generally don't like cream cleansers and this is more of a gel cleanser which ends up becoming a soapy, foamy consistency as you massage it into your skin. I use my Clarisonic Mia with this and it's just divine.
---
Well, there you have it. My favorite 2015 nighttime beauty products! If you guys would like me to do more reviews of my favorite products (there are a ton!) let me know in the comments below. I always turn to reviews before buying a product so I'd love to help in any way that I can.
*In the spirit of full disclosure, there are affiliate links in this post which means that I may get a small commission if you decide to purchase anything mentioned above. I only recommend products that I use and love myself, so I know you'll be in good hands!