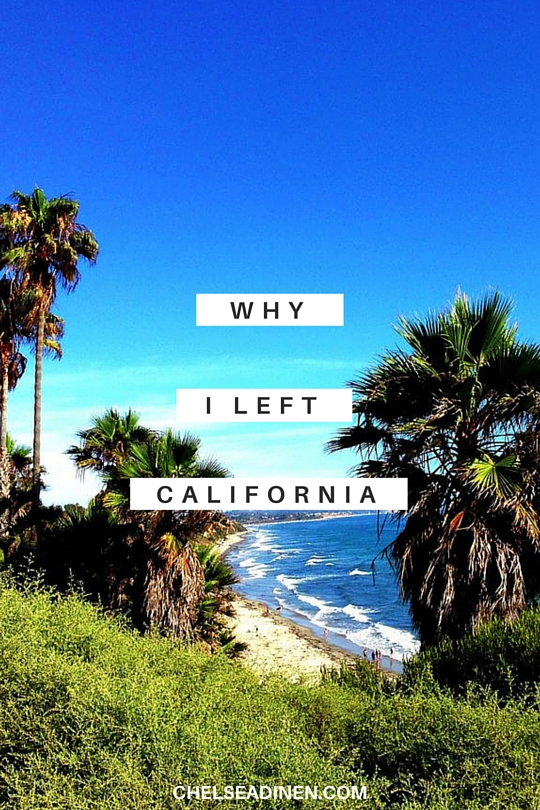 It's the question I get asked nonstop. "How could you leave San Diego?" And you've probably been wondering too. So, it's time to explain why I left California.
Two years ago, I was "living the life" in San Diego. I put that in quotation marks because everything really was nearly ideal… except for the spiders. I have a post on that coming soon (so be sure you're signed up for my emails so that you'll see it.) Then, things started to shift and morph and change and I no longer felt aligned. I worked in the surf/fashion industry which was a dream of mine but once things began to shift, I knew and trusted that my life was taking a turn.
I've mentioned many times how moving to San Diego was a journey of self discovery. It's where I came home to my Purpose and Truth and really learned who I am as a woman. In the midst of this 'soul journey' I found the calling deep within me. The calling to become a life coach and serve others on their own journeys. After a long time of soul searching, reading, writing, and meditation, I decided that it was time to get my life coaching certification.
When you begin to align yourself with your Purpose, you'll be amazed to see doors close and better doors open…
…which is exactly what began to happen for me. As sad as I was to leave San Diego, I knew I was meant to be on the East Coast to work on my certification (the program was based on the East Coast.) It all just made sense. I was at such peace with it.
I had been getting ready to switch neighborhoods and move into a high-rise in Downtown San Diego but the Universe had other plans for my next chapter. I learned how important it is to walk in alignment with your Truth because that is when you learn to trust in the timing of the Universe.
As deeply as I had grown to love San Diego, as long as I had dreamt of calling it home, as much as I felt I truly belonged and thrived there, I knew I had to accept the call to take my life even higher. And that required me to leave California. Maybe not forever but at least for that next chapter of my life.
So, that's why I left. Not because I wanted to leave California or because it wasn't what I had expected (quite the contrary!) It was because I was being called elsewhere at the time.
If you feel as though you're being called to do something more, something else, something greater, then you probably are. Listen to the call.
That's exactly how I felt and, thanks to my incredible mentor, Gabby Bernstein, I learned that when you hear the call, you have to answer it.
The call to coach. The call to teach. The call to serve. To lead. To help. To heal.
Over the years, I've witnessed countless people in my community step into their power and gain the confidence to lead and serve. When they embrace their leadership, they often feel called to turn their purpose into their profession. People from all walks of life hear the call: Bankers, publicists and lawyers alike want to bring spiritual principles into their own lives and practice. Nutritionists, writers, or Etsy shop owners too. Shoot, I used to be an event coordinator in the surf and fashion industries!
At the end of the day, every single one of us has the chance to make a difference in this world. And, if we answer the call with focus, devotion, clarity, and connection with the Universe, we can even make a living while doing so. A really, really good living.
When you have an empowering message to share, it is your sacred responsibility to get it out into the world.
Seriously, think about that for a moment. Learning and embracing that changed everything for me.
Onward to your dreams,
Chelsea

I fell in love with San Diego the moment I first landed there on vacation years ago. There is no other city in the world like it. I left my heart in San Diego. The city, the sights, and the people helped shaped me into the woman I am today.
Once a San Diegan, always a San Diegan :)
P.S. I've since moved back to San Diego ;)