Dreams. We've all got them. But only some people ever make it to the end of life having actually accomplished their dreams and goals. In today's post, we're talking about the number one thing holding you back from your dreams.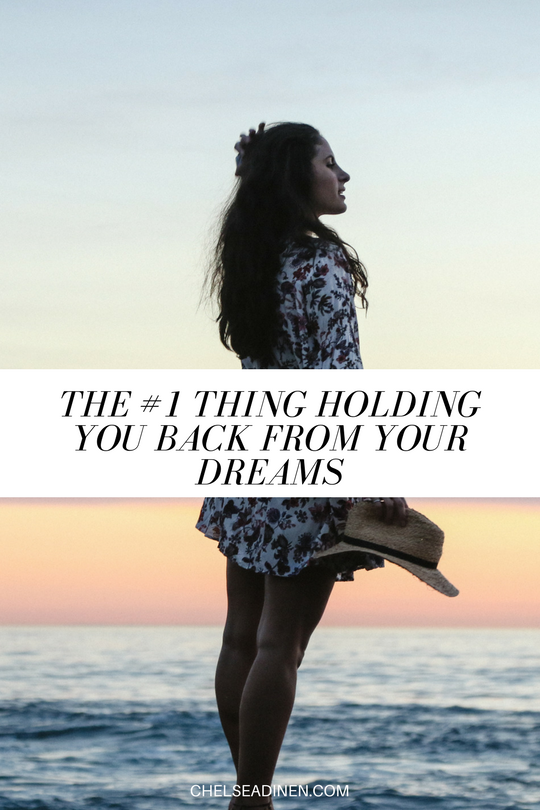 So, let's talk specifically about that top dream of yours. The one you know in your heart you just have to go after. Whenever you picture it in your mind, you get that gut feeling of, "Yes! I have to make this come true."
Perhaps it's the dream of starting a business that gives you freedom and purpose.
Perhaps it's taking a year to travel all over to different countries to experience their cultures.
Perhaps it's writing a book or inventing something that will change the world as we know it.
Perhaps it's the idea of moving to a new city and experiencing something completely different.
What ever your dream is, I want you to picture it now in your mind. Say it out loud. Bring it into the light.
Because I want you to know that it's possible. And the more you say it and envision it, the more real it will feel. I think sometimes using the word "dream" to describe the deepest yearnings and desires of our heart makes it seem as though it is just a fairytale; as though it can't actually happen.
So, let's re-phrase this. Let's see that dream as your biggest life goal. It's a goal, which means that it is absolutely achievable.
Let's talk now about the whole purpose of this article which is:
THE NUMBER ONE THING HOLDING YOU BACK FROM ACCOMPLISHING YOUR DREAMS AND GOALS.
(P.S. You can also watch my video on this topic over on YouTube here, if you prefer!)
---
If you decide you want to make a big change in your life and go after what you want most, you have two options: