Mid-Century Modern Architecture – Palm Springs is known for it. Since the 1920s, architects have been designing modern homes that shaped what we know as Desert Modernism. You will see lots of clean lines, the use of indoor/outdoor spaces, neutral color palettes (with many colorful doors!), and all sorts of fun roofs. If you're a Mid-Century Modern nerd like I am, you will be in awe as you drive through the many neighborhoods of Palm Springs. So, in this post, I'm walking you through a photo tour of the best neighborhoods to check out while you're in the Coachella Valley!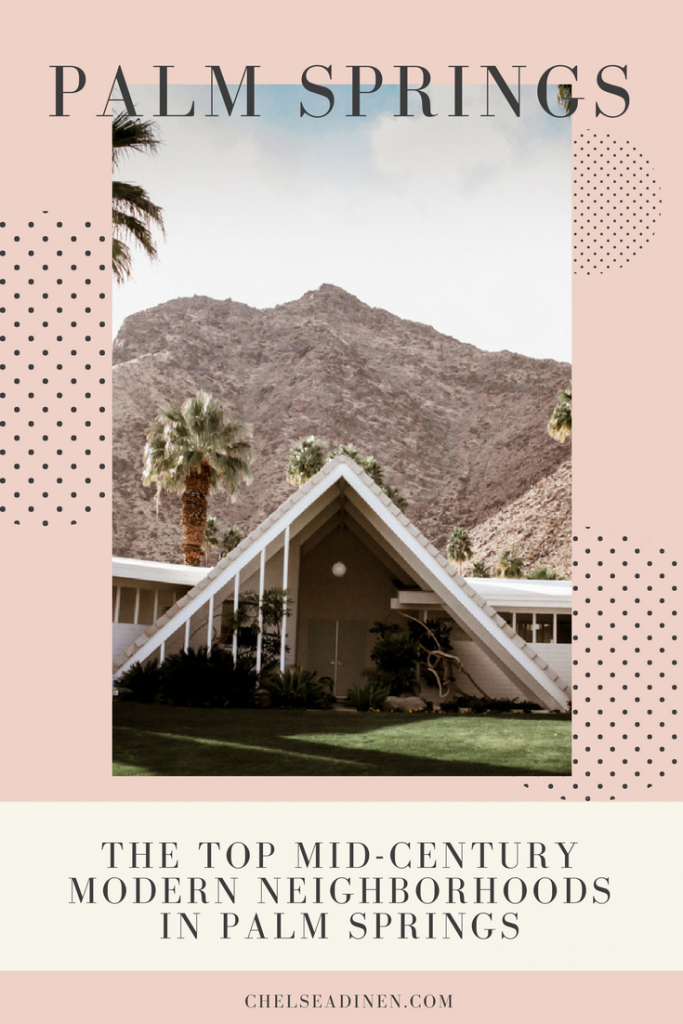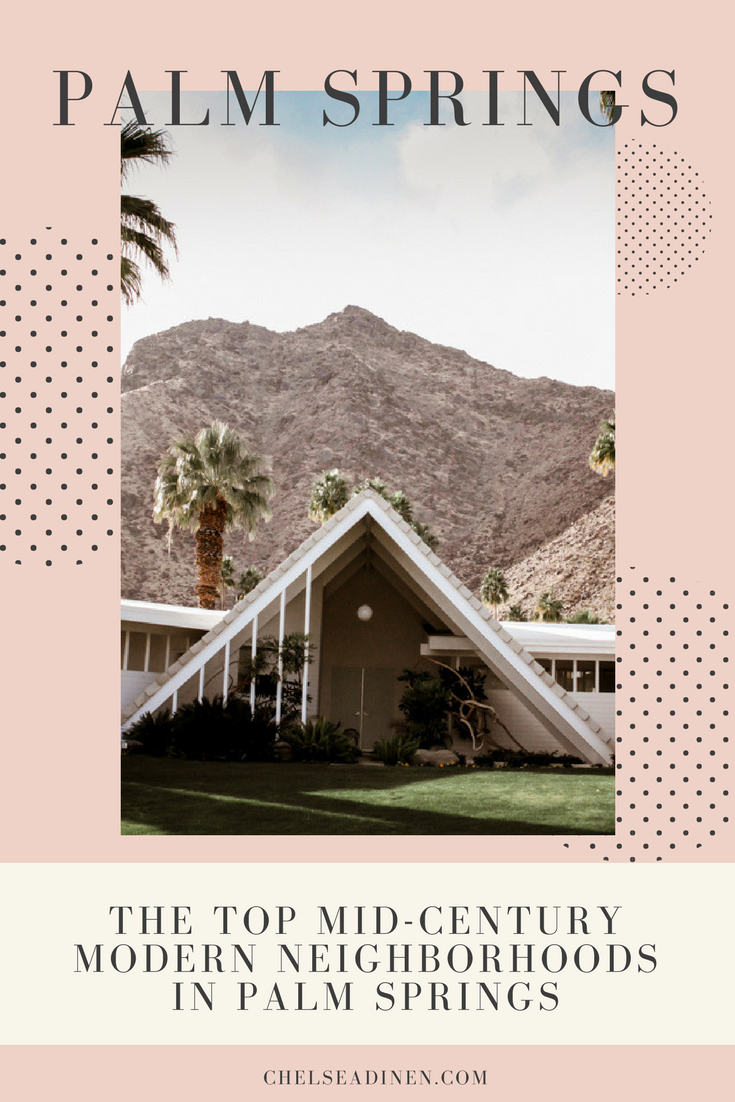 Fun fact: In the residential areas of Palm Springs, homes cannot be built higher than one story. The reason for this? So that no one is blocking anyone's view of the mountains and so that no one can see into your backyard.
Back in the 1950s and 1960s, Palm Springs became a desert hideaway for many stars of Hollywood's Golden Age. Cary Grant, Marilyn Monroe, Frank Sinatra, Nat King Cole, etc. all had homes here. Back then, November-April was the time of year to be in Palm Springs, due to the extreme heat the rest of the year. However, since then, it's said that a renaissance of sorts has happened. Now, people flock to Palm Springs year-round to relax, rejuvenate, and tour some of the most unique homes and streets.
Before we get started, there are technically five neighborhoods where you can find many of the famous Alexander homes. What's an Alexander home, you ask? The Alexander Construction company built about 1,200 Palm Springs Alexanders between the years of 1957-1966, which were designed by architect William Krisel. They were highly sought after homes back then due to their function and affordability and are still highly sought after today. Originally selling for anywhere from $20,000-$40,000 many are now selling for over $1 million!
While every neighborhood on my list may not consist solely of Alexander homes, there are certainly many of them to be seen.
1. Vista Las Palmas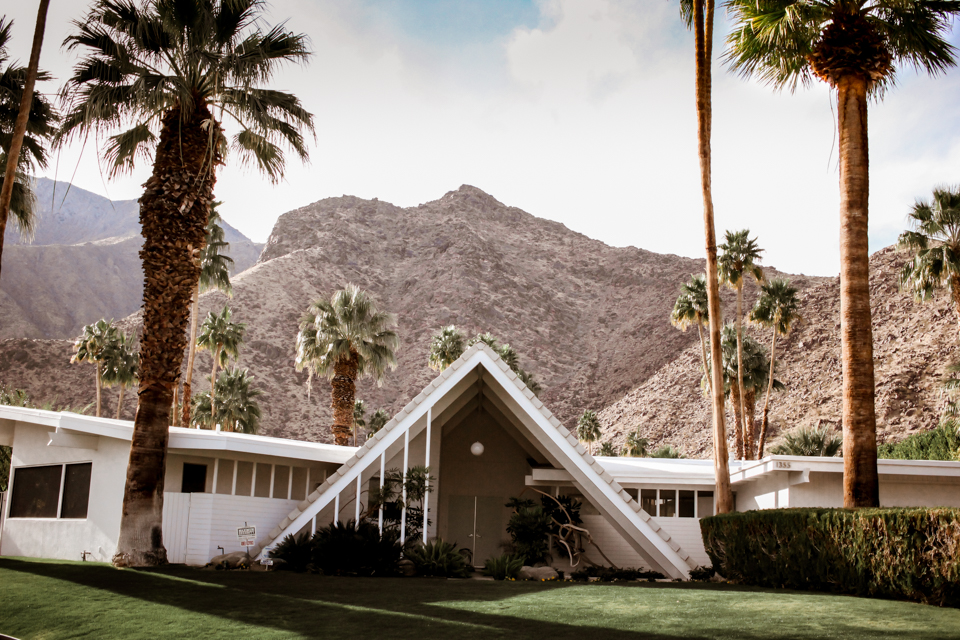 Directly west of Palm Canyon Drive and west of Monte Vista St, these homes are tucked just underneath the beautiful San Jacinto mountains. The largest Alexander homes were built here and it's no wonder so many holiday stars had homes in this part of town. In fact, Nat King Cole and Marilyn Monroe lived just a couple doors down from one another! Can you imagine?
This is where you will see the majority of A-frame/Swiss Miss homes. Swoon!
Favorite Street: N Rose Ave. This is the street where the photo of the above A-Frame was taken. Fun fact: Marilyn Monroe's home may or may not be just across the street ;)
     2. Indian Canyons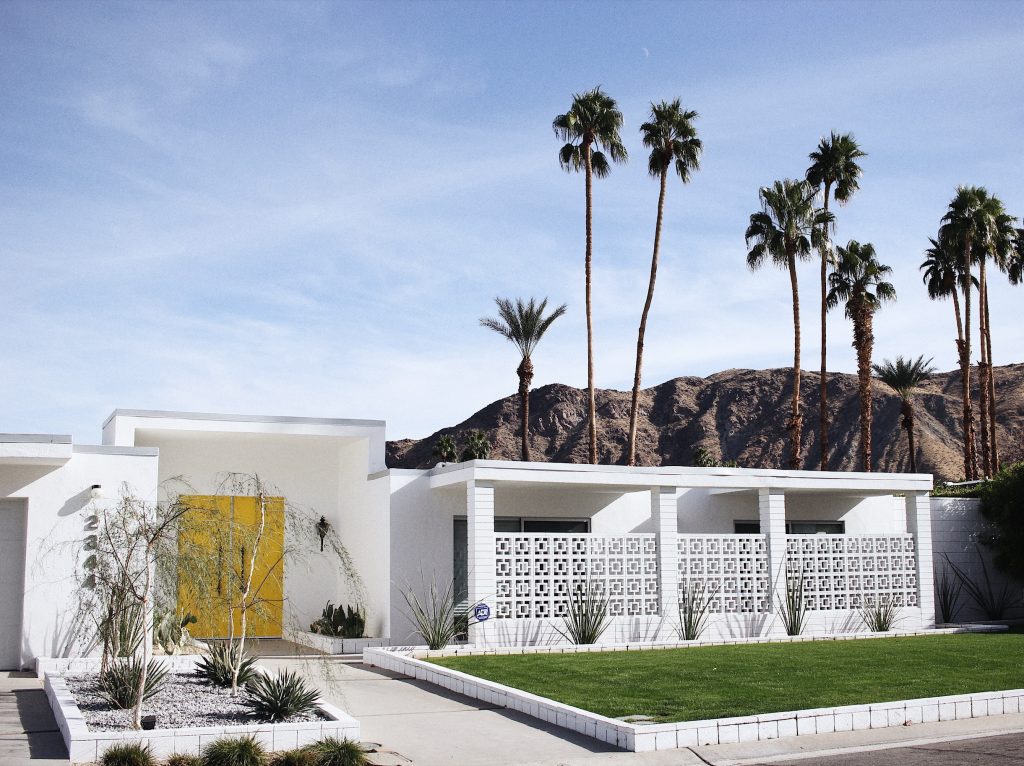 Though I love the old charm you feel in Vista Las Palmas (and those mountains!) I think Indian Canyons has the most impressive collection of homes. Palmer & Krisel, Donald Wexler, and Roy Fey were some of the architects who designed the high-end homes found in this part of South Palm Springs, South of La Verne Way and East of S Palm Canyon Drive. This is where you'll find the Instagram-famous #ThatPinkDoor but don't worry because there is no shortage of bright, colorful doors here. Weave in and out of these sprawling streets and you'll see what I mean.
Favorite Street: S Yosemite Drive
Continue Reading