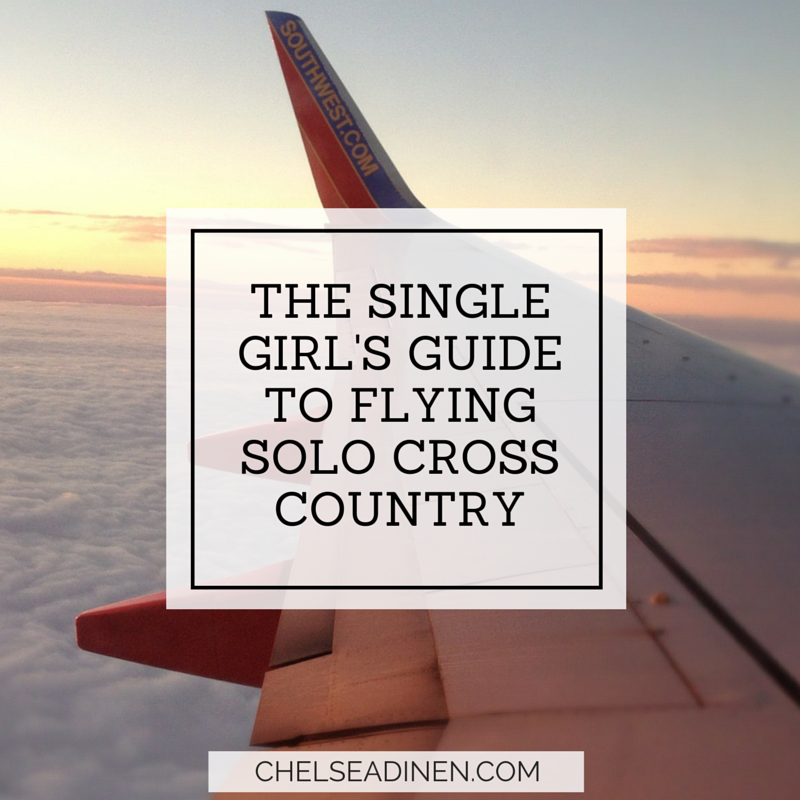 I'm flying cross country to California this week and thought I would talk about a few of my tips and tricks for traveling solo as a single girl. Some of my fondest moments have happened while traveling solo. But, it's important to be prepared, safe, and organized when going alone so here are some tips I've picked up over the years:
1. Start looking for flights early.
Generally, I keep my eye on prices and then wait to book my flights about three weeks prior to when I want to leave. If I'm traveling for vacation, I try to keep my dates flexible in order to score the best deal on flights. Weekends are usually more expensive than weekdays. Personally, I usually leave on a Thursday and return on a Monday or Tuesday, depending on where I am headed. This seems to be the perfect length of time for a solo trip. Not too long. Not too short.
2. Coordinate transportation to the airport
I haven't always had a friend or family member available to take me to the airport at 5:00am so look into the best options in your city. I have had good experiences with Super Shuttle but, depending on how many other passengers are in the shuttle with you, it could take a while to pick up or drop everyone off. If you're looking for the most time-efficient option, I've found long-term airport parking to be the best. If you're lucky, they'll drop you right off at your car on the way back too. And, depending on the length of your trip, it might end up being cheaper than Super Shuttle or two cab rides.
3. Be extra attentive
This may seem like common sense but I'm amazed at how absent-minded some people can be while traveling. If you're traveling alone, make sure you have your ish together. Have your boarding pass handy at all times. Get your ID out while you're waiting in line at security. Double-check the bins you used in security to be sure you leave nothing behind (especially your ID/boarding pass!) Go straight to your gate and check to see if there are any delays or cancellations. Pay attention to the clock if you leave to go grab a snack or coffee. Once you board, take note of who's around you and any flight information the Captain or flight attendants provide. You can never be too prepared, especially when flying solo.
4. Get settled as soon as possible
As soon as I board and find my seat (or choose it since I'm usually flying Southwest!) I get everything out of my carry-on that I'll be needing during the flight. Books (here are some of my recommendations), phone (in airplane mode, duh), my noise isolating earbuds
, etc. If I plan on using my laptop, I'll usually keep that in my carry-on underneath the seat in front of me until I need it. The reason I settle in as soon as possible is because I don't want to constantly be moving around, elbowing the person next to me, climbing over my row to get to the overhead bins and disrupting the flight attendants. Just something to keep in mind.
5. Take it easy on the food and drink
Call me crazy but I don't enjoy using the lavatory on airplanes. I get vertigo when walking about the cabin and don't even get me started on the claustrophobic airplane bathrooms. So, the mornings before I fly, I have a light breakfast but skip the coffee and drink as little as possible. Same goes for in-flight food and beverage. You won't find me drinking Bloody Mary's while looking out at the clouds. When the flight attendants come around, I'll generally take what ever snack they're offering (peanuts or pretzels for Southwest, Lorna Doone for JetBlue) and ask for a drink without ice (I don't like ice in general but drinking with ice during turbulence sure can be troublesome.) I forego the homemade sandwich or greasy fast food while in-flight and keep it simple.
6. Layovers
Depending on how far cross country you're traveling, chances are, you will have a layover. Sometimes, you may not have a plane change which generally means you stay on-board while others board the plane. In some cases, the flight crew will allow you to de-plane while they clean the cabin. When this happens, I've just given my name to the crew member at the gate and they check me back in when I'm ready to board so I don't have to wait in line. If you do have to change planes, again, be conscious of your time. You may have plenty of time for a snack or meal and if so, I'd say take advantage of that. If you're pressed for time, get over to the gate of your connecting flight and then determine whether you'll have time for food. Additionally, I always try to use whatever time I have during a layover to use the restroom!
7. Arrival
I rarely ever remember to listen to which baggage claim to go to. So, once we land, I wait to get off the plane, and take my time getting over to the baggage claim area. 9 times out of 10, the luggage still hasn't been loaded onto the conveyor belt by the time I get there. This is a wonderful test of patience. Once you get to baggage claim, you'll either recognize some people from your flight and head their way or check the screens for your flight with assigned carousel number.
I'm hoping by this point, you've already secured your ground transportation. If you haven't, please refer back to #3 (have your ish together!) Whether you're meeting someone or have a rental car or shuttle arranged, know where you're supposed to go as soon as you've picked up your luggage.
++
Most importantly, have fun! Do a fair amount of people watching, have a conversation with the person sitting next to you, look out the window at the beautiful scenery. Flying cross country can be daunting and because of that, unfortunately, a lot of people don't do it alone very often. So, take advantage of this wonderful opportunity.
The more you fly alone, the more you'll get the hang of it. You'll start to develop your own way of doing things once you see what works for you and what doesn't. I started flying alone a lot for my job in college and it's because of all that solo travel that I truly learned to love traveling alone! Keep in mind, flying is one of my biggest fears so if I can do it, you can do it!
If you're planning your first solo cross country flight, I hope this post helped and gave you that extra push to get out there and explore on your own. There's a great big world out there and I've found those moments alone while traveling to be filled with self-discovery, huge ah-ha moments, and a deepening appreciation for other cities and people.
Are you embarking on a solo cross country flight soon? Already been? Let me know in the comments below what tips you have for flying alone!
If you found this post useful, please share it on your social networks! My hope is that more and more women will break through their fears and experience all that life has to offer, including the many benefits of solo travel!