I could be waiting forever if I waited for someone to come with me. So I went alone.
Portland was one of two U.S. cities I had always wanted to go to but never had the chance. (Seattle was the other city.) As my 30th birthday was approaching back in January, I knew I could either continue to wait until someone else was able to go with me. Or I could go alone.
Today, I'm sharing my deeply introspective solo trip to Portland.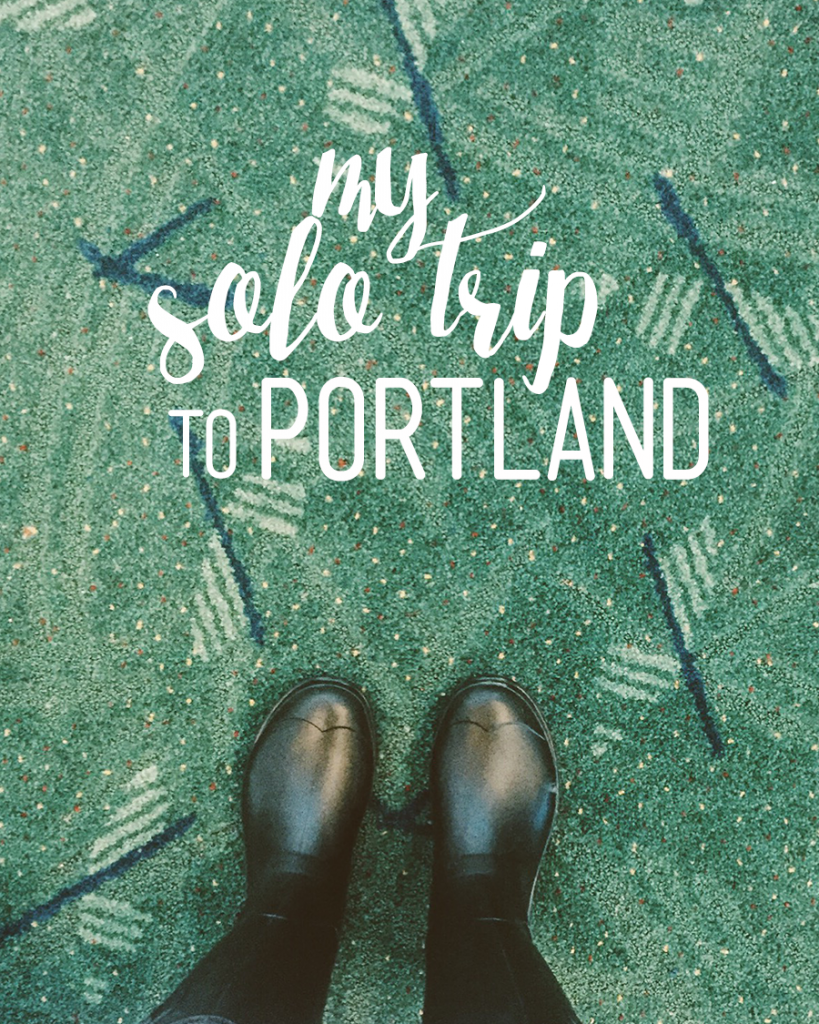 Portland was part of my three-state solo trip for my birthday. I started in Denver (read about that trip here) and Boulder, then flew to Portland and later would drive up to Seattle. My goal was to have a 'trial run' of living in each place before ultimately deciding where I would move next.
During my flight to Portland, battling a cold of some sort, my ear drums burst when they wouldn't pop during the plane's descent. I landed in Portland in a lot of pain and with very little hearing.
Needless to say, I was delightfully surprised when I went to pick up my rental car and they told me they were giving me a free upgrade because they needed me to drive a Canadian car up to Seattle the next week. So, they let me pick out whichever Canadian SUV I wanted. I went with a sleek Ford Escape with Alberta plates ;) I would soon fall in love with that vehicle…
And with Portland.
Immediately upon driving through the streets of Portland, I felt… different.
Portland was different.
Portland is a city that unapologetically does its own thing. That's exactly what makes Portland, Portland.
I stopped by my beautiful, cozy, hip Airbnb to drop off my belongings before exploring the town by foot.
By the way, staying in an Airbnb is totally the way I recommend traveling (You can sign up for free here and start browsing ALL the gorgeous accommodations!)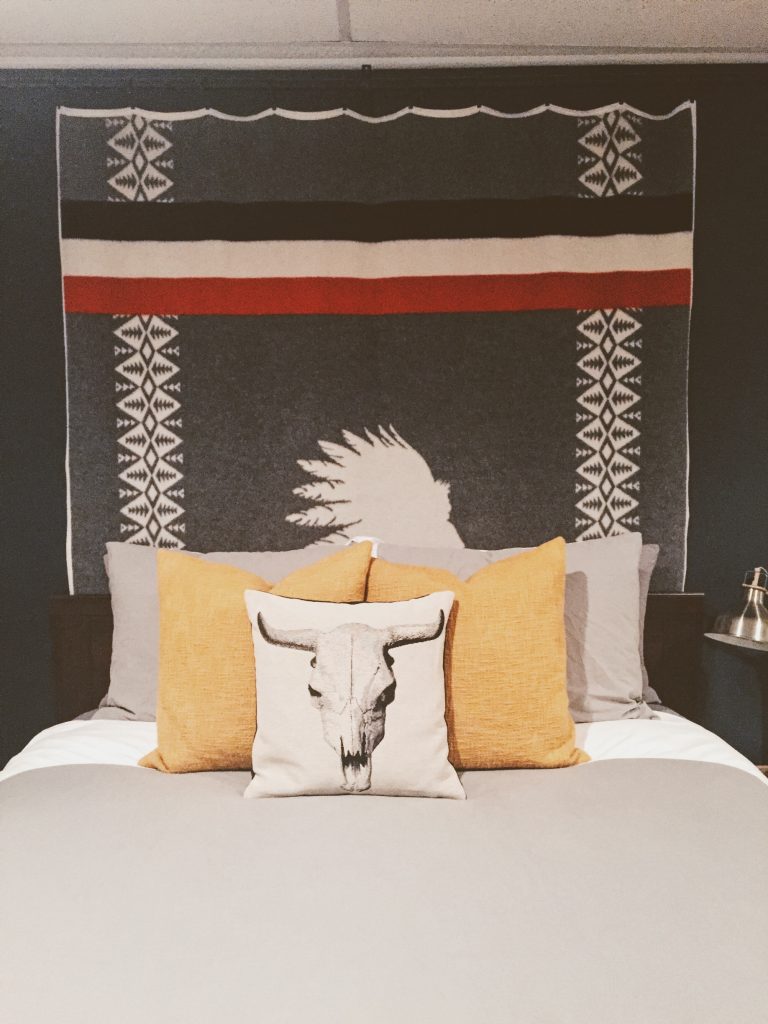 I walked up to Whole Foods to pick up some groceries and then stopped by Bamboo Sushi in SE Portland (the first certified sustainable sushi in the world!)
As I walked around, I noticed how cute all of the houses were and how Portland truly is as bike-friendly as everyone makes it seem. Bike riders were everywhere. (To the point where you ought to look for bikes, not just cars, when crossing a street.)
My first day in Portland left me with a really good feeling. I felt safe walking around alone and was excited to venture out the next day to check out some of the main attractions Downtown.
Upon getting lost in the rain (with no umbrella because apparently you just don't use umbrellas in Portland — which did really seem to be the case) I eventually found my way to Powell's Books. Powell's was, without a doubt, the number one thing I was looking forward to on this trip. I snapped the below picture and posted it on Instagram with the caption, "I've arrived. I am home."
Because I could live in Powell's.
For those who don't know, Powell's Books claims to be the largest independent new and used book store in the entire world. It takes up an entire city block in Downtown Portland. With over a million books being housed inside, you can easily wander the multiple floors and rows of books for hours on end. I returned to Powell's several times because I loved it so much.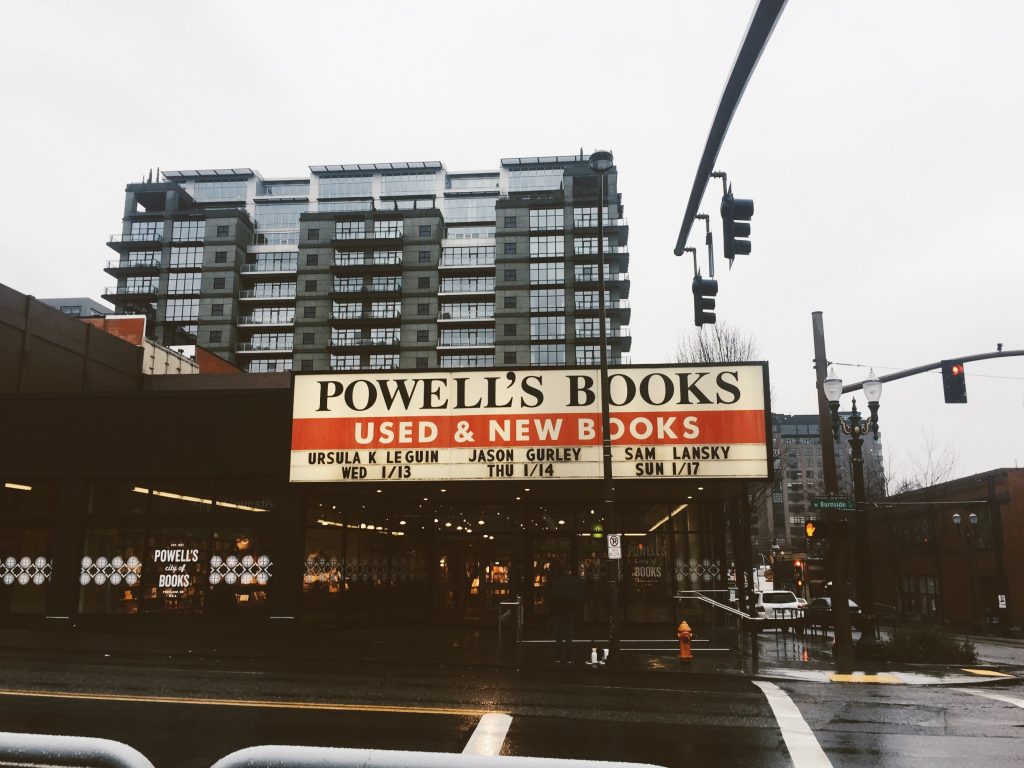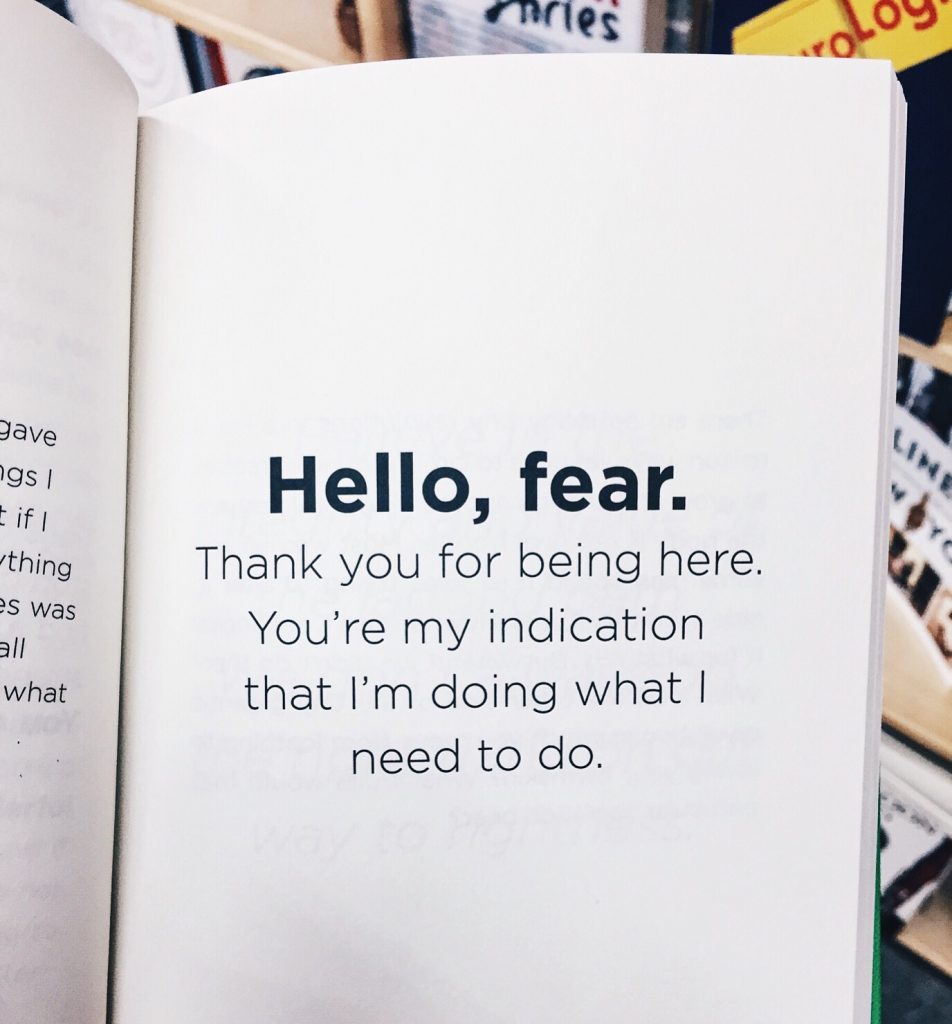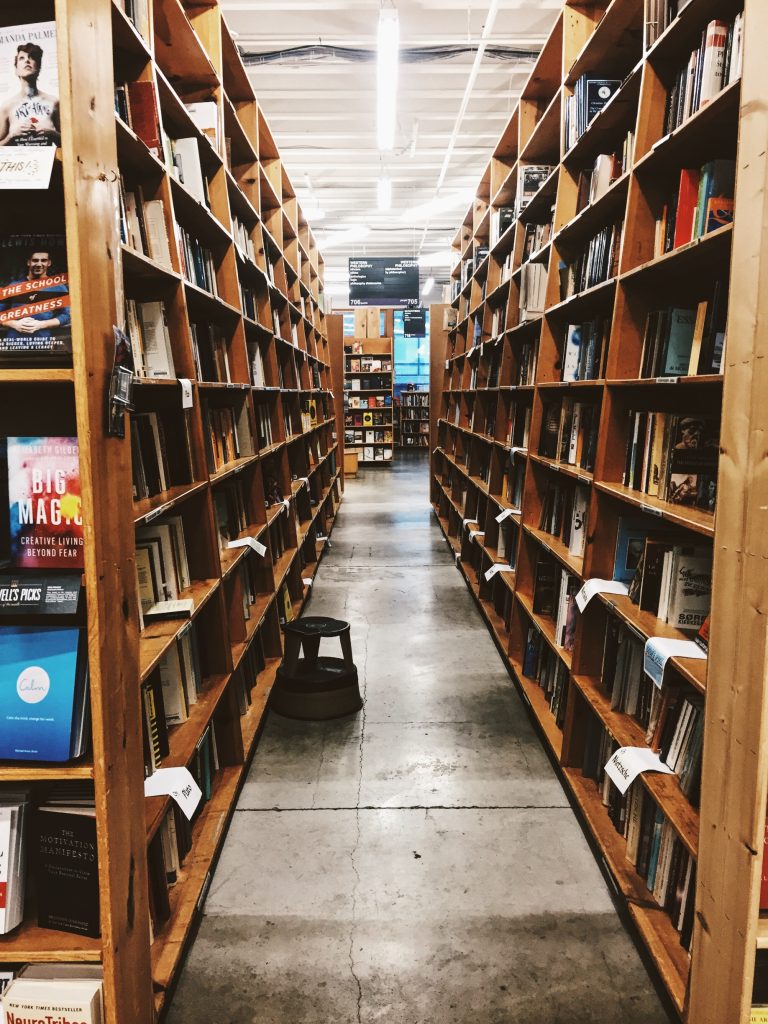 I can honestly say that Portland is an introvert's dream.
Between Powell's, endless coffee shops, drizzling rain, and the ease of walking pretty much anywhere you'd need to go, it makes for the perfect conditions for those of us who just want to hang out somewhere inspiring and write.
I felt that Portland was easy for me to connect with. Again, one of the main reasons I made this trip was to explore what the city may feel like for me to one day call home, so I was quite happy.
---
Another major component that drew me to Portland was the food!
Having been either vegan, vegetarian, or pescetarian most of my life, I knew Portland was a hot spot for these certain type of food options. I had a list of places to try and, while I didn't get the chance to check out all of them, I was blown away by every place that I did go to.
Oh, and the donuts!
I wasn't sure if I was going to even bother with VooDoo Doughnuts. In case you don't know, VooDoo is THE hot spot in Portland for absolutely outrageous donuts. The line is known to be outrageous too which is why I thought I might skip it. But as I was walking by the 'Keep Portland Weird' wall (see below), I spotted VooDoo Doughnuts… with no line!
What's the trick, you ask?
Go on a weekday in the middle of winter :)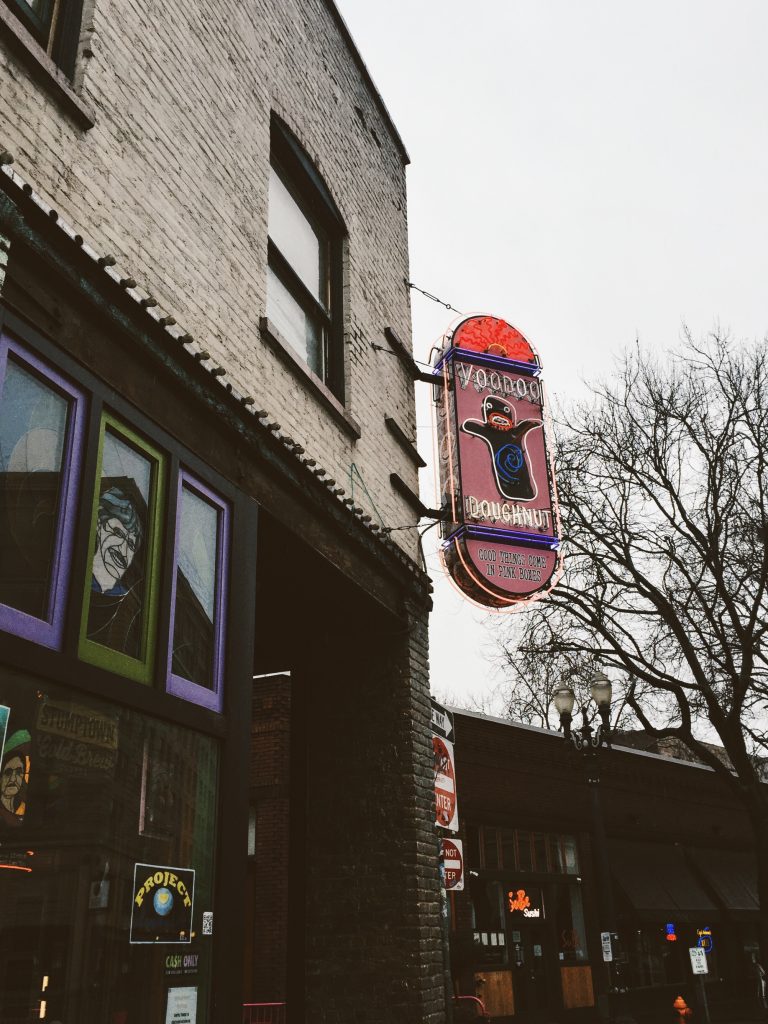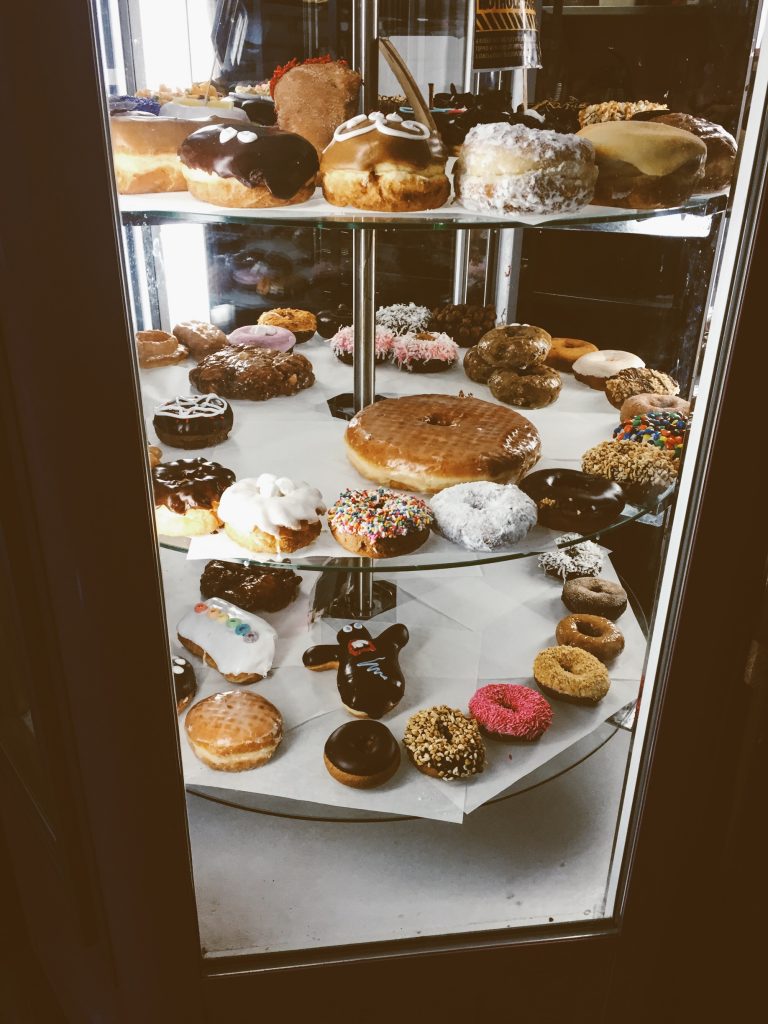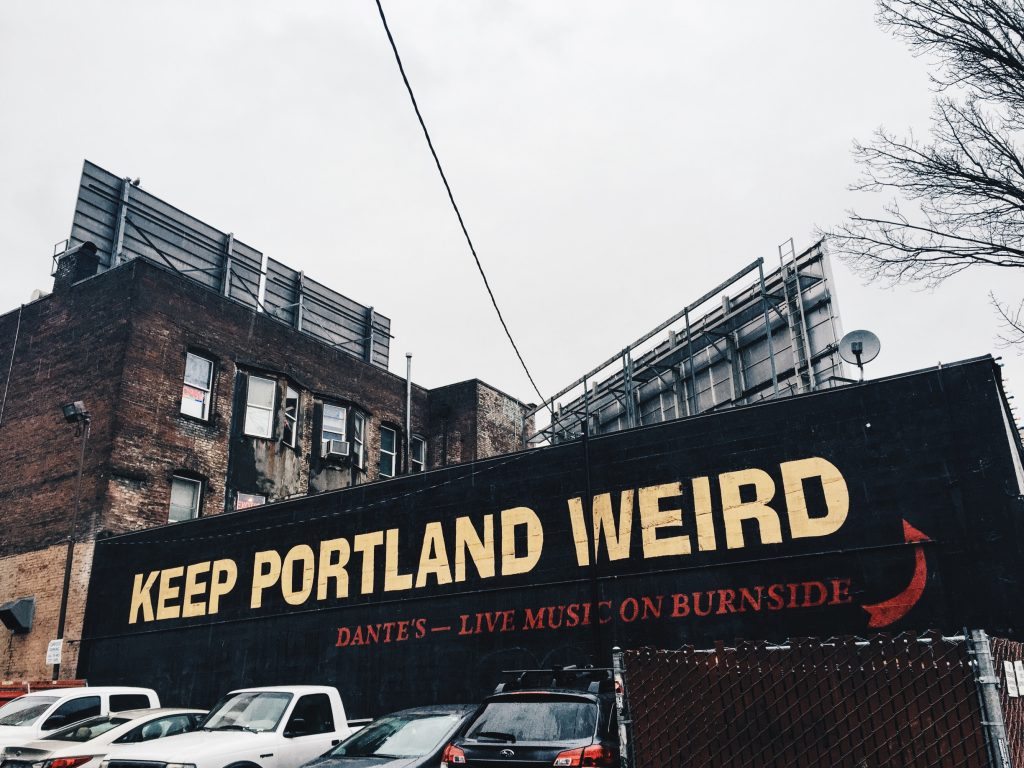 While VooDoo Doughnuts is popular with tourists, Blue Star Donuts is said to be popular with the locals. I stopped in one day while walking along Hawthorne and tried the Lemon Poppyseed and the Blueberry Bourbon Basil donuts (pictured below). It's hard to compare the two donut shops as the donuts are entirely different. That said, Blue Star is all about quality over quantity and I have a lot of respect for that. Get there early because they close when the donuts run out!
And then there's the Portland coffee. Swoon. I've never been so impressed with coffee and coffee shop ambience as I was in Portland. It certainly lived up to my expectations. Again, an introvert's dream.
I tucked myself along coffee bars lining the windows overlooking rainy streets. Large, wooden communal tables. Comfy couches in hip hotel lobbies (The Ace Hotel in the Pearl District – check it.) I wrote and I wrote as I sipped on lattes and devoured yummy vegan dishes.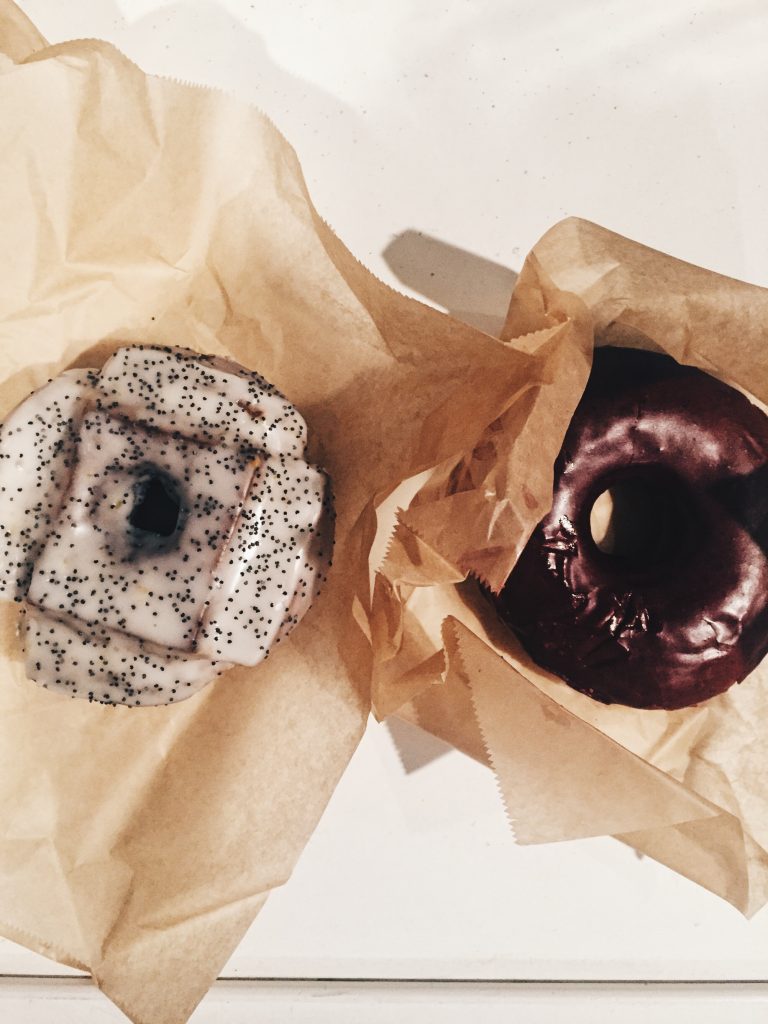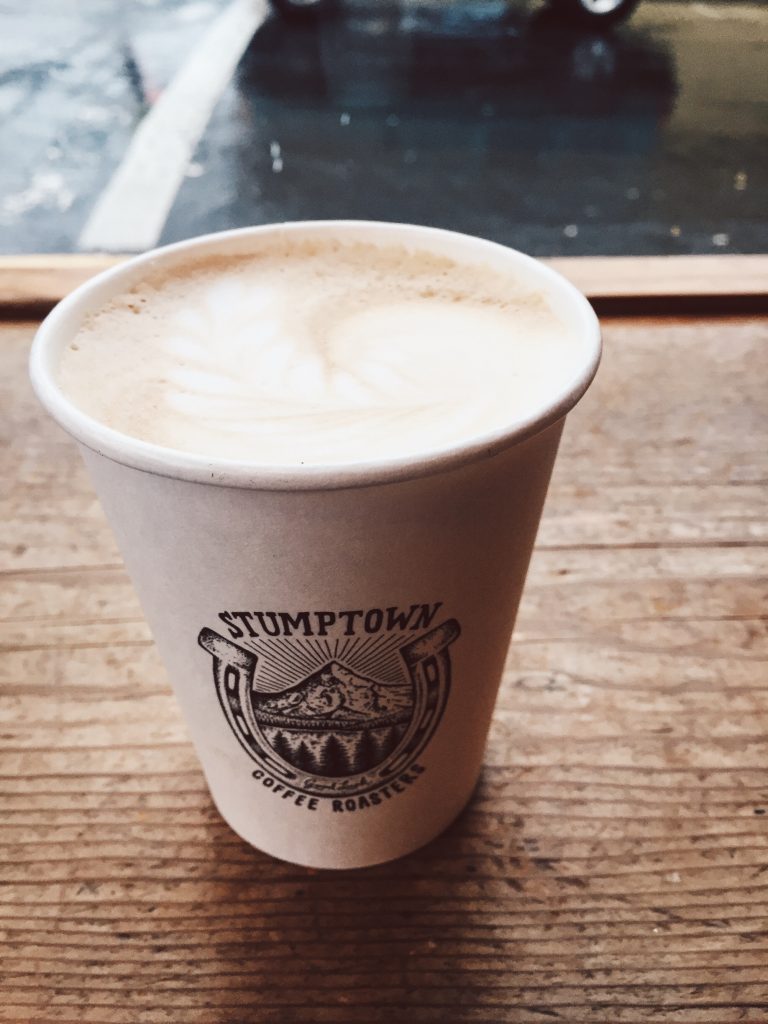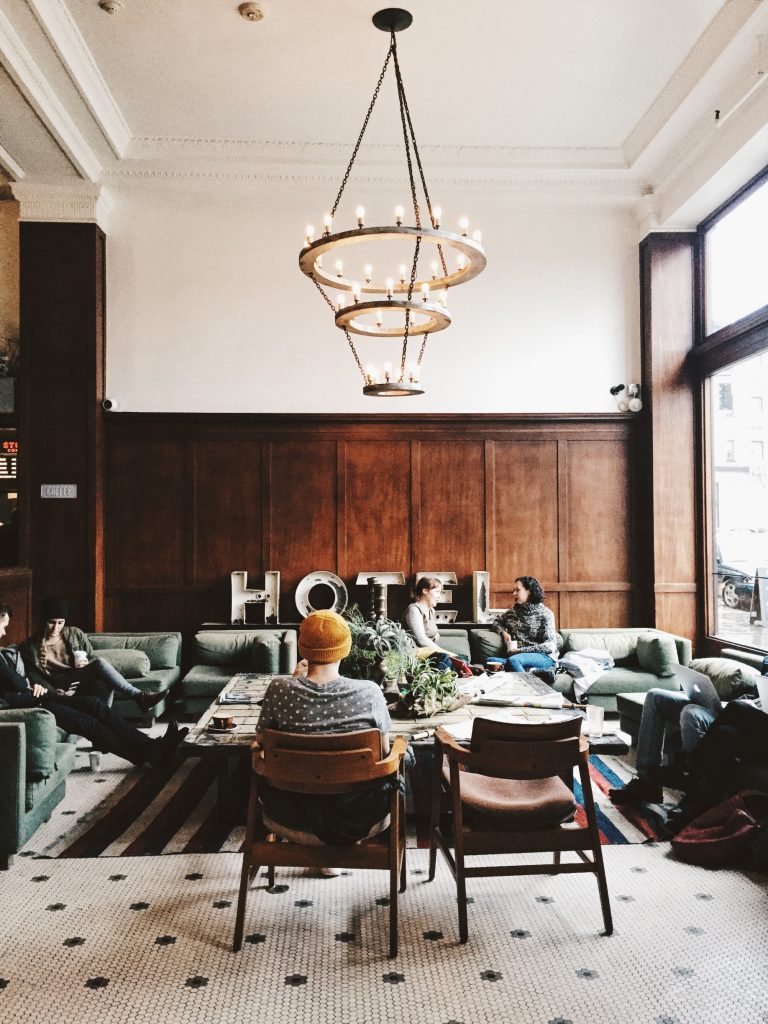 The food was the best I've had (or shall I say it easily rivals that of New York City?)
I'm quite the fan of vegan macro bowls and fresh juice (green or otherwise) so my favorite spots were mostly Prasad and Harlow. They are sister restaurants so it's really no surprise that I loved them both. I also dabbled in a few of Portland's famed food trucks and checked out the coolest ice cream spot I've ever heard about, Salt & Straw in the Alberta Arts District. (Examples of their ice cream flavors: honey lavender, strawberry honey balsamic with black pepper, and pear & bleu cheese.)
I was impressed. Very impressed.
I had more kale, more coffee, and more juice (and perhaps donuts and ice cream) in one week than ever before.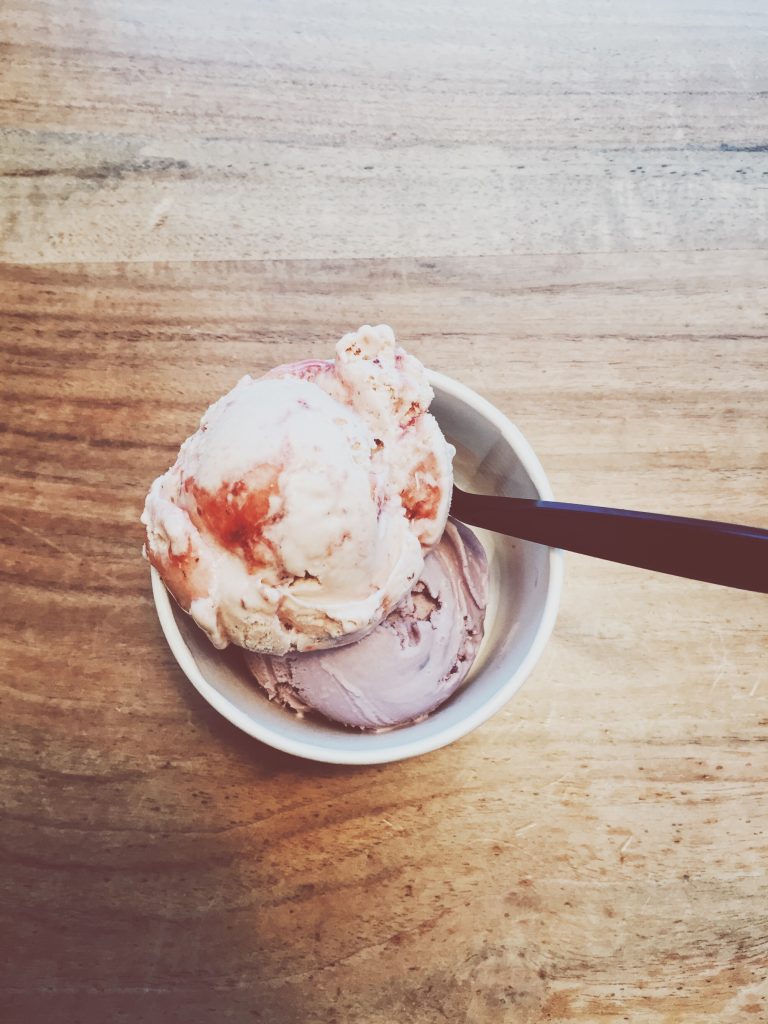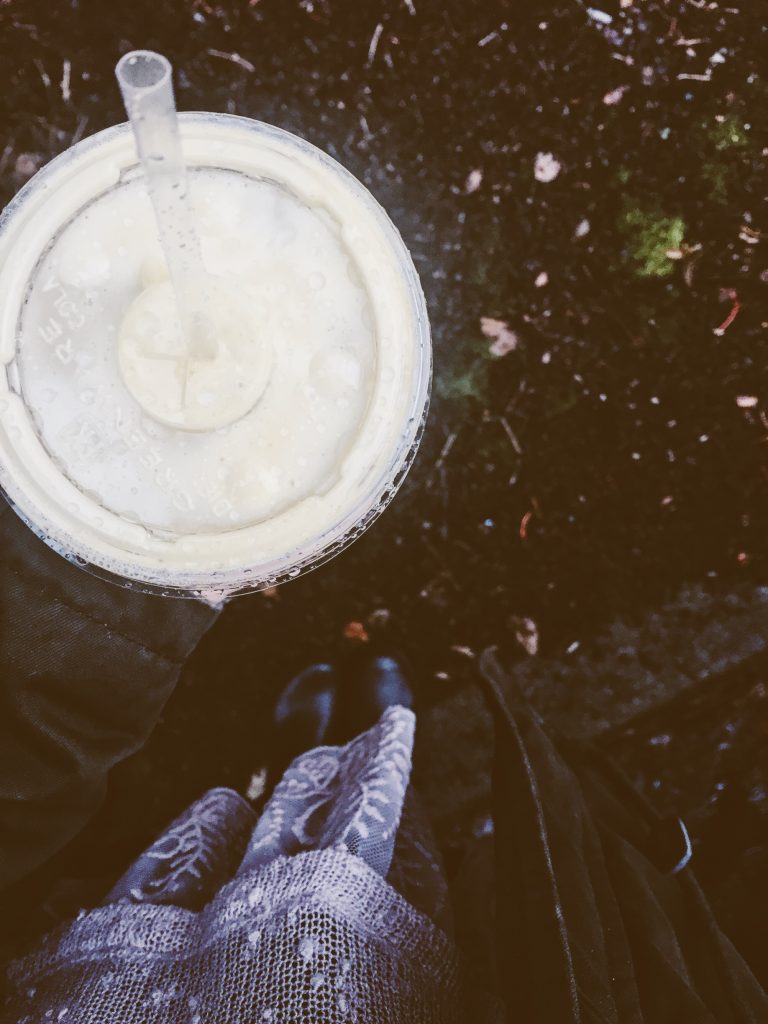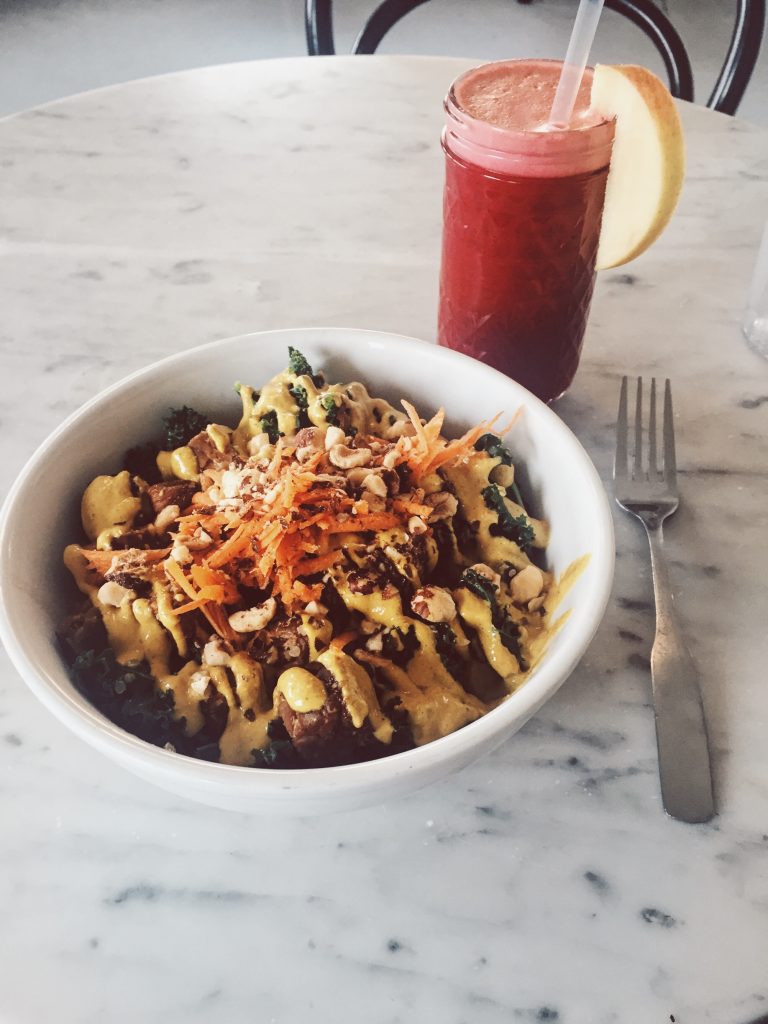 Needless to say, there are endless options when it comes to what to do in Portland and most of these options are perfect for the solo-traveling-female. Yes, even in dreary January. It rained the entire time I was there and yet I left Portland with nothing but amazing memories.
I'd go back in a heartbeat and I plan to.
I fell in love with Portland and could definitely see myself calling it home one day.
As with all solo travel, be mindful of your surroundings. I generally felt safe everywhere in Portland, keeping in mind that I usually head back to wherever I'm staying around the time it starts to get dark when traveling alone.
---
My time in Portland truly was lovely. I was able to do a lot of writing, a lot of self-reflection, and continued to deepen the bond with my True Self.
I learned:
that getting lost in the rain can be fun. It becomes part of your adventure and the story you remember for years and years.
that we must listen when certain cities call out to us. It's usually our intuition knowing something deeper than we realize.
there are lessons waiting for us wherever we travel. We simply must remain open.
yet again, how each city is uniquely different in its own way.
more about my independence, dreams, goals, and inner strength.
I can't imagine my life without the solo travel that I've done.
Having no one else to rely on but yourself. Feeling all of that fear before and during your travels but going out there and doing it anyway. Learning so much along the way. It's an experience I deeply suggest to every woman (and man).
It ends up never really being about the destination. It's the journey that matters.
I'll always look back on my trip to Portland and remember the woman that I was when I arrived and the woman I was when I left. I'll look back and see what shifted for me during that period of time. And I think that's beautiful.
When you travel alone, try not to think so much about the 'doing' the whole time.
Allow yourself to also focus on the BEING.
Who are you when you're walking through Portland or Denver or Seattle? What do you embody when you are living the experiences that make up this life we get to create for ourselves?
You can read about my solo trip to Denver here.
And my solo trip to New York City here.
Remember:
Life is too short to wait for someone to go with you. Go alone.
Perhaps you're thinking about traveling to Portland solo or you're considering moving there someday. Spending time alone in PDX is a real treat and something I recommend to all gypsy soul women out there.
If you're scared about traveling alone or making any big life transition (like moving to a new city on your own!) let's work together! Check out my course Soul-Centered Moving!
To get instant access to my online course with everything you need to know about moving to a new city on your own, check this out:

Here's to your courage and future solo endeavors, what ever they may be.