In June 2015, I looked out over the rooftops of Manhattan, knowing I had been forever changed by what had transpired throughout that weekend. Earlier this June, I returned to New York City for that same experience: Spirit Junkie Masterclass. It's a powerful three-day training for spiritual teachers taught by my mentor Gabby Bernstein. And, without a doubt, I can say that it has changed my life. Twice.
I decided to dive in and share my experience at Spirit Junkie Masterclass with you.
To be honest, the Spirit Junkie Masterclass (SJM for short) experience begins as soon as you register and join the members-only Facebook group. I was in awe of the energy within that small community of yoga teachers, life coaches, health coaches, business coaches, etc. And once you arrive at Spirit Junkie Masterclass, you realize that you are surrounded by people from all walks of life: Lawyers, fashion magazine editors, therapists, veterans, mothers, husbands, and people who have no idea what they want to do, they just know they seek a higher purpose and calling.
Many of us began to share our journey to NYC as we counted down the hours, sharing videos and pictures of our plane rides, train rides, and cab rides. Again, the energy was magnetic.
Being a part of the Spirit Junkie community alone has changed my life for the better. We share our highs, our lows, our failures, and our successes. We offer support and ask for support.
A couple dozen of us or so met up for lunch the Friday of Masterclass, a few hours before everything kicked off. I quickly and with ease bonded with a group of amazing women, only hours later finding out that we are all life coaches! Birds of a feather… :)
And then, about two hours leading up to the start of Spirit Junkie Masterclass, we all began arriving at the theatre in Chelsea, New York. The energy was intense, as I knew it would be. I felt a bit more grounded this year, as I at least had a general idea of what to expect. But yet the experience this year impacted me in a completely different way. After all, an entire year had transpired.
I trusted that I would receive the messages and trainings that I most needed at this time. Because, in all honesty, that's how it always works in life. No matter the class or training or book or coaching session, we are guided to the messages we most need to hear. It's beautiful, isn't it?
So, I trusted.
---
At the start of Spirit Junkie Masterclass, Gabby took us through a powerful meditation. Tears filled my eyes. I was in the midst of another big transformation. I knew I was being healed at that very moment, through Gabby's words and with the help of my own spirit guides.
She creates a space so sacred and so safe that allows us to dive deep into the depths of our soul.
And I will be forever grateful for that.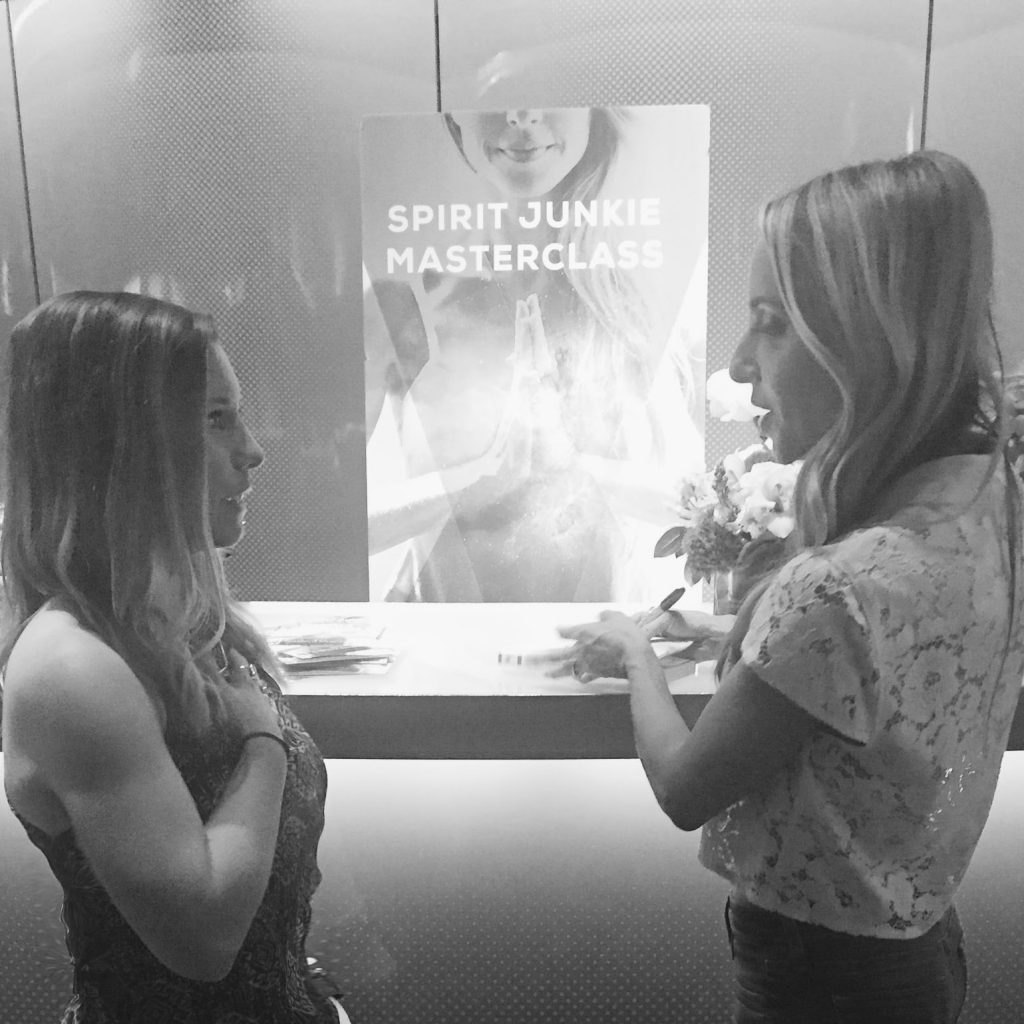 On Day Two, Gabby really cracked us open, helping us release our wounds, our limiting beliefs, the stories that had been holding us back and instead, she helped us do the work to walk away with the priceless tools to find our voice, embrace our message, and shine our light as leaders, teachers, and healers.
She brought in amazing speakers such as the beautiful Rha Goddess whose presence is fierce and empowering as well as Jordan Bach whom I love and whose divine gifts as a spiritual teacher have personally impacted my life.
And then we got real. We manifested. And prayed. And set powerful goals and intentions for our businesses and, more importantly, for our lives.
I walked the streets of New York City (in the pouring rain at times, I might add) just absolutely buzzing. I felt on fire, electric, charged with a power higher than myself, knowing I was walking the path the Universe had intended for me.
The moment you connect your passion with your purpose in life, you vibrate at a higher frequency.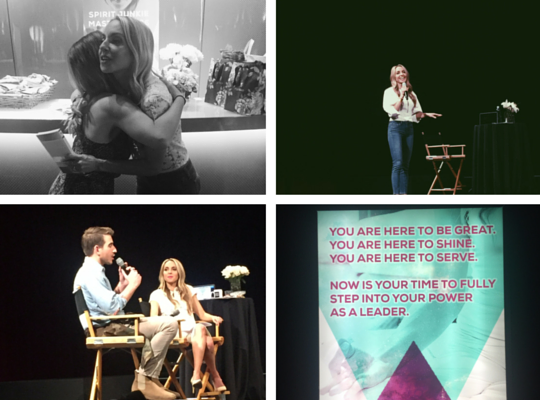 ---
At Masterclass, Gabby said, "Anything you put before your spiritual practice, you will lose."
And I left NYC believing that statement to its core. Without my spiritual practice, I am nothing. When I'm not connected to Spirit, I can't perform my best work. And when I can't perform my best work, I can't serve in my Highest Capacity. When I am disconnected from Source, I am disconnected from Self and therefore, disconnected from my Purpose.
I made commitments to myself after signing my Sacred Contract, a contract that Gabby will ask you to sign at the end of Masterclass, that were some of the biggest commitments I will ever make during my time here on Earth.
Perhaps you feel ready too. To make a vow to yourself to stop shying away from your purpose. To stop putting off that thing that's been calling you. And to start living purposefully and unapologetically.
I vow to unapologetically live in a way that connects my passion with my purpose.
Here's a clip of Gabby and Rha Goddess at Masterclass last year talking about how to define your purpose:
https://www.youtube.com/watch?v=fXmQBaDylnM
The Spirit Junkie community is an amazing family to be a part of because we continue to grow. And we love each other every step of the way.
There are two major qualities that stood out to me about Spirit Junkie Masterclass versus numerous other trainings I've been a part of. They are the following:
It's not business training. It's life training. Spiritual training. For those who want to make their passion their purpose.
I have never come away from something feeling SO connected to my spiritual path and my spiritual practice.
Gabby says it best herself, "There are plenty of courses you can take and events you can attend that teach you how to build a business. But none of them take the time to really unpack what's getting in your way of doing it. And if you don't do the deep and authentic work of the soul first, none of the business-building tactics and strategies you learn will make a difference."
---
I know many of you who read my blog are walking your own path of personal and spiritual development. Some of you have taken a spiritual path with your career, and some of you are trying to navigate how exactly to do that in a way that feels best for you. You feel the call to shine your light on the world. I wish I could have brought each of you to New York City with me to experience Spirit Junkie Masterclass.
But I am so incredibly grateful to say that there is now a way for you to experience Spirit Junkie Masterclass without being in NYC. And that is through Spirit Junkie Masterclass Digital. (Note: Registration has closed for 2016 but join my email tribe to be updated when it opens again!)
You can have the same sort of deep inner transformation take place without having to worry about the expense of traveling to New York City.
Gabby is offering an invitation to join Spirit Junkie Masterclass Digital — An invitation that could change your life, your spiritual practice and your career. What's so amazing about the digital training is that you will be catapulted right into the auditorium with her. You will feel the energy of the group and get the best expression of Gabby as a teacher. And, who knows, you may even catch a glimpse of me in the audience ;)
---
Here's a rundown of the 8-module digital course. You will:
Get step-by-step guidance on how to start or grow your spiritual business, get noticed by the media, and make money doing what you love.
Deepen your own spiritual practice.
Get inspiration and concrete advice from experts in personal growth and spirituality.
Learn how to turn your blog into a business, publish books, lead lectures and create digital courses
Form lifelong bonds with fellow Spirit Junkies on the private Facebook group and the live comment feed in the training community.
Join 2 live Q&A calls with Gabby.
Have access to an always-fresh, forever relevant program that you can revisit anytime.
Experience the energy and enthusiasm from the live training in the comfort of your own home.
Have the option to learn via video, audio, or typed transcripts — whichever format fits your learning style best.
Plus, Gabby is offering an extra special bonus when you sign up for the training before June 26, 2016: Her Spirit Junkie Business Basics digital program!
Here's a breakdown of the bonuses you'll get:
Two live training calls with Gabby: The first will help you clarify your visions and move past your blocks, and in the second she'll guide you to get into action! These live calls are valued at $500.
The Spirit Junkie Business Basics digital program: Gabby created this program with her team of business pros. It will give you everything you need to set up the back end of your business: contracts, negotiating tools, insurance information and much more. This program has a total value of $3,000.
Get $3,500 in bonuses when you sign up before June 26 at midnight ET.
---
These bonuses are huge and may not be offered again. So, be sure to check out all of the details about SJM Digital while registration is still open! (Until June 26th!)
If you follow me on Instagram or Snapchat (@ChelseaDinen) you know how much I truly believe in the magnitude this course has to change your life entirely. I do not say that lightly.
While my experience with Spirit Junkie Masterclass both this year and last year is unique to me personally, there is not a single person I know who went through SJM and did not come out changed for the better. We each experienced shifts, breakthroughs, hugely eye-opening moments, healing, and immense gratitude.
The world needs your light.
I deeply hope that, should you feel the call, you choose to join the Spirit Junkie family.
Again, one last time, here is the link to get all the details and register for what will be one of the most transformational experiences of your life. (Reminder: Registration has since closed for 2016.)
All my love,
Chelsea
P.S. I'm a proud affiliate of Gabrielle Bernstein's Spirit Junkie Masterclass Digital training. I love this course, and I believe in the mission behind the work. As an affiliate I may earn a referral fee if you take the course from my recommendation. This in no way changes anything I've written above.