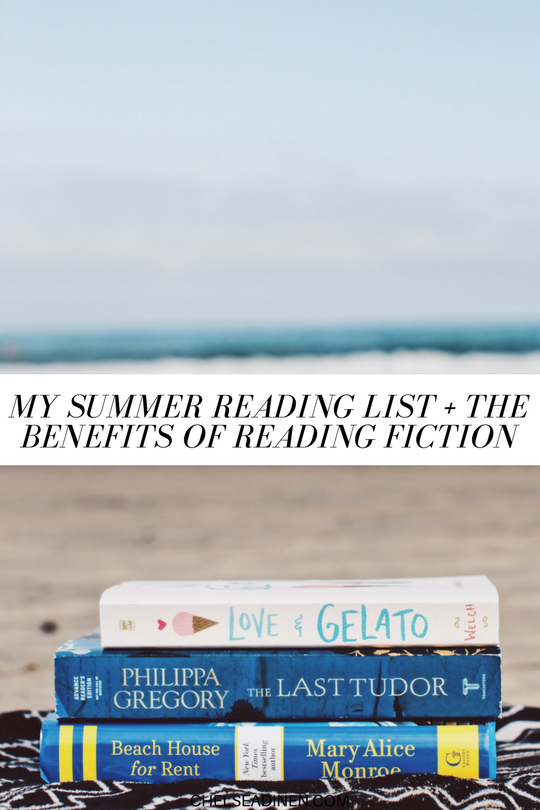 As someone who loves experimenting with my own personal development, I decided to take myself up on a new challenge. I decided this summer, I was going to opt for fiction-only books instead of my usual nonfiction. I wanted to read up on some of the benefits of reading fiction and then test them out for myself. So, today we'll be talking about that plus my Summer Reading List!
We all know how much I enjoy my routines, so as a part of my morning/evening routine of reading, I chose 3 fiction books that I wanted to dedicate myself to reading. My hopes were that I'd get lost in the storylines and feel more relaxed!
I'll save all the details for the video below, but let me just tell you… WOW! I forgot how much I loved reading fiction! I grew up wandering the aisles of bookstores and libraries so it's a given that I have a very special place in my heart for books. But working in the personal development and self-help industry means a LOT of the books I've been focused on have been nonfiction.
I'm not saying there is anything wrong with that because clearly, I love nonfiction and all that you can learn, but there's something magical about getting lost in a story. My mind, body, and soul truly needed this change for a bit.
Suggested Reading: The Importance of Having A Daily Routine
---
So, in collaboration with Simon & Schuster, I bring you my Summer Reading List for 2017!
In this video, I review each of the three books I chose this Summer.
I also break down the specific results I saw by putting my nonfiction books down this season and picking up fiction instead. You won't want to miss this!
My Summer Reading List:
1. Beach House for Rent by Mary Alice Monroe
2. The Last Tudor by Philippa Gregory
3. Love & Gelato by Jenna Evans Welch
Again, you can find my review of each of these books in the video below. Check it out to decide which books you'd like to finish out these last few beach/pool days with!
I hope you enjoy this video!
If you haven't already, please go subscribe to my YouTube channel! I post a bunch of videos to help you with starting healthy habits, goal setting, and productivity!
For more, follow along on Instagram.
More Helpful Resources: