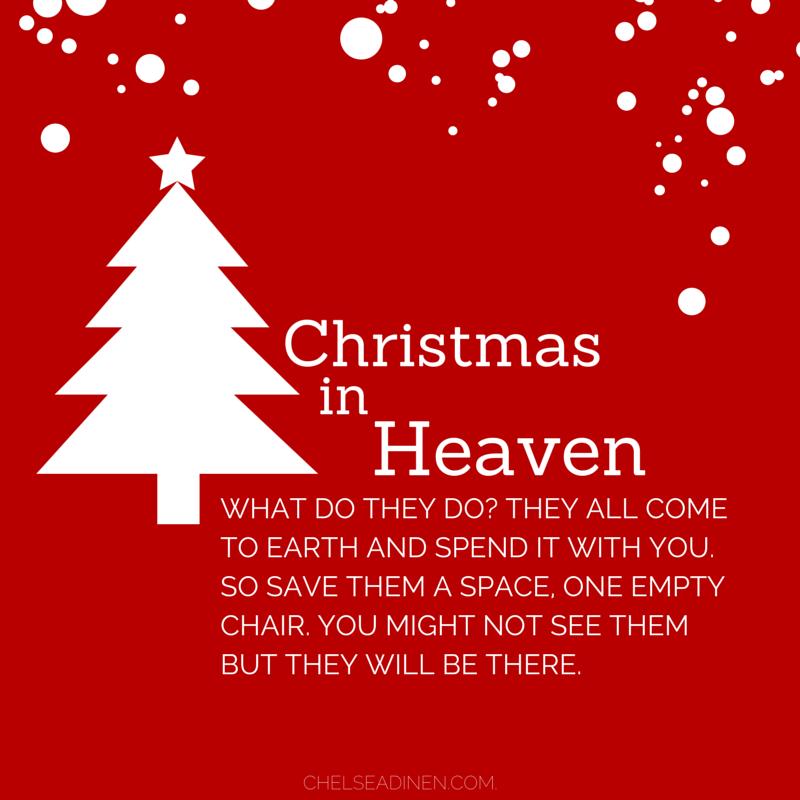 Whether it's your mom, another family member, or a dear friend, Christmas ("the most wonderful time of the year") can often be the most painful time of year when someone important in your life has passed away. It's a hard feeling to describe to those who haven't experienced it yet. It's not "sad" or "the blues" or even just "I really miss them."
It's a void. An emptiness. A Christmas tree without lights.
So, today, on this Christmas Eve, I just wanted to share a little poem I've found and created a graphic of. It reminds me that although this time of year is difficult to move through, and it is most definitely hard to feel the normal "Christmas Spirit," our loved ones are with us. They want us to feel joy, peace, and comfort even if they are no longer with us in the physical world.
I fully believe that our loved ones are aware of our day-to-day life, our joys, and even our pain. Whether you set a place at the table for them or invite their Spirit into your heart, they are by your side today and tomorrow on Christmas Day.
Will it feel the same? Probably not. Will you miss them? Of course. But know that it's okay to smile, it's okay to cry, it's okay to have no idea how to feel.
Think of the wonderful memories you've shared with them. Think of how they'd be celebrating. Think of how they are celebrating.
This Christmas, I'm sure we will be sitting around the tree reminiscing about Christmas with Mom and all the fun traditions she started for our family. Her love, her light, her giving heart.
Merry Christmas to all, including my angel Mom!
++
If you too have lost your Mom, this special Christmas vlog is for you!