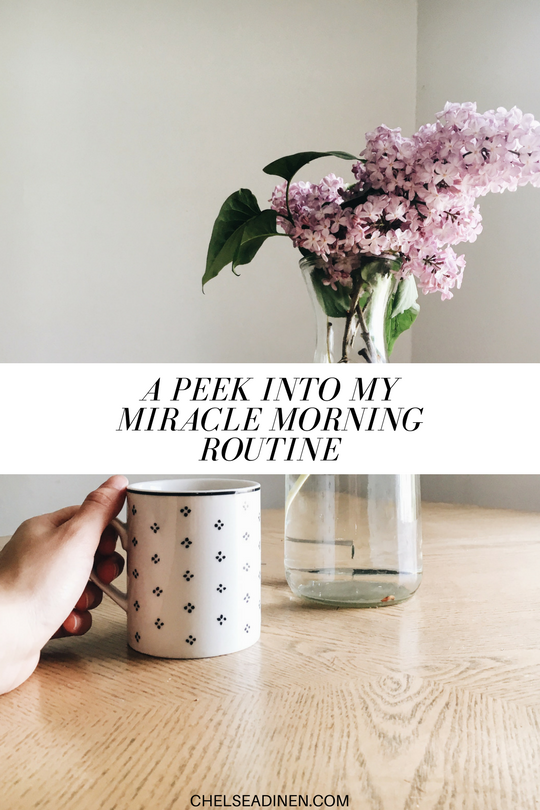 I've been getting a lot of questions about what my Miracle Morning routine looks like. So, I decided to bring you along for a behind-the-scenes video of my Miracle Morning Routine.
In case you're new here, I committed to 30 days of The Miracle Morning (a 6-step morning practice by Hal Elrod — I'll link to the book here in case you're interested) a couple months ago. You can hear what happened when I stopped after 30 days here.
Then, earlier this month, I decided to get back into my Miracle Morning routine and I invited anyone who wanted to join along with me for a 21-day Instagram Group Challenge. Basically, anyone can join in at any time by sharing your morning routine with a photo and using the hashtag #MiracleMorningGroup and tagging me @chelseadinen so I can see!
Suggested Reading: The Miracle Morning: Week One Check-In
---
This video is half vlog, half sit down and talk. I show you exactly what I do for each of the 6 Life S.A.V.E.R.S.:
SILENCE

AFFIRMATIONS

VISUALIZATION

EXERCISE

READING

SCRIBING
And then I explain the details in the second half of the video.
This video is short and sweet. If you haven't started The Miracle Morning yet but you're looking for some guidance, this video is for you! If you have started it, but you're looking for some new inspiration, this is for you too!
I've said it before and I'll say it again. Having a solid morning routine is life-changing. Working on personal development first thing in the morning is a beautiful way to set the foundation for your day. It's something I highly encourage for everyone. Regardless of how early your day normally starts, try to wake up just a little bit earlier. Put yourself and your self-care first.
Without further ado, I hope you enjoy this video!
If you haven't already, please go subscribe to my YouTube channel! I post a bunch of videos to help you with starting healthy habits, goal setting, and productivity! I've started sharing more of my experiences with The Miracle Morning in my videos too.
For more, follow along on Instagram.
More Helpful Resources: