If you follow me on Instagram, then you know that on Monday, March 27th, I started The Miracle Morning. The Miracle Morning is a book written by Hal Elrod that outlines a daily morning practice consisting of what are known as the S.A.V.E.R.S.
S: Silence
A: Affirmation
V: Visualization
E: Exercise
R: Reading
S: Scribing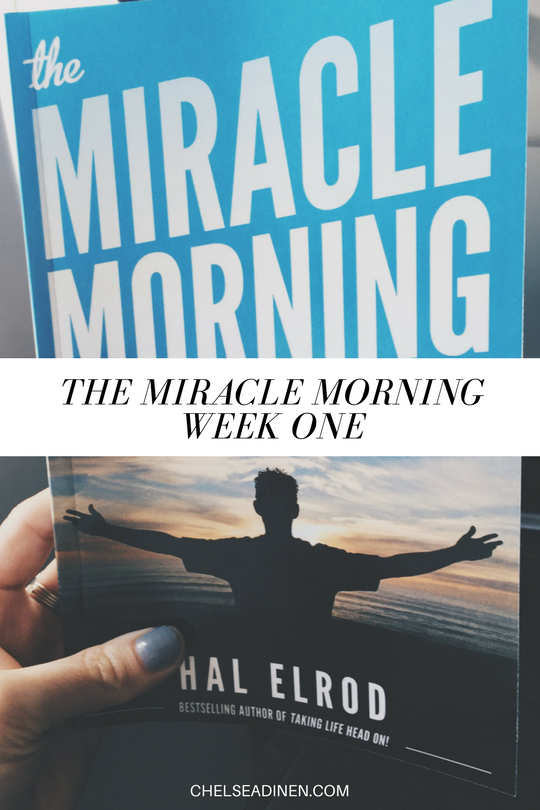 Hal teaches us that by incorporating these daily principles into our morning routine, we will create more productivity and fulfillment in our life. And if you know anything about me, you know that personal development is my passion and I'm always on the hunt for new routines and habits that foster joy and alignment.
Now that I am one week into this new routine, I wanted to document my own personal experience as I dive into The Miracle Morning and each of the S.A.V.E.R.S. every morning.
P.S. I'm doing a FREE 12-day group challenge of The Miracle Morning over on Instagram. You can follow me here @chelseadinen for the details. We begin on Monday, June 12, 2017!
---
I started off setting my alarm to go off between 4:30 and 5:00am. I use the Sleep Cycle app which gives you the option to be woken up during a 30-minute 'wake up phase,' where the app determines your optimal waking time. This was throwing me off. It was already early in the morning, and some days the alarm would go off at 4:30am! That really wasn't necessary so I disabled the optimal wake time and set my alarm for 4:55am.
This was perfect! Just enough time to wake up, get out of bed, grab my blanket and get set up to begin right at 5:00am.
Let me stop here and say that the very first Monday, I was beyond excited and energized to begin. I was actually quite surprised at how this excitement continued to grow each day. I did not feel tired. Only hungry :) I found that having a simple, healthy snack on hand was helpful for my body that was otherwise not used to waking up so early.
Here is my set-up for The Miracle Morning:
As soon as my alarm goes off, I turn on my Himalayan salt lamp that is on my bedside table. This helps awaken my mind without the harshness of the bright overhead light. It also gives me an action step to take instead of just going back to sleep. Plus, I love the beautiful glow that it gives to my room.
I put my faux sheepskin rug down to sit down on and prop a fluffy pillow up next to my bed to rest my back on.
Sometimes I will put a soothing, classical/ambient playlist on from Spotify. Here is my 'Classical Concentration' playlist that I've curated in case you'd like to follow along!
Items I have with me: iPhone on 'Do Not Disturb' with the Insight Timer app. iPad. Book. Journal. Pen. Highlighter. Water bottle. Light, healthy snack. Apple Cider Vinegar water.
SILENCE
I've been using the app Insight Timer to do guided meditations during the Silence period. This is helping me with my breathing and focus. I love it! I love the community aspect that Insight Timer has. It tells you how many other people are meditating with you!
AFFIRMATION
I found a couple different affirmations on Pinterest and in books I've read that I wanted to use. So, I created a new note in my iPhone titled 'Affirmation' and when it's time, I open the note and read aloud my affirmations.
VISUALIZATION
Although the guided meditations I listen to on Insight Timer are sometimes visualizations, I still always do further visualizations at this time. I take out my iPad, open up the Pinterest app and look at two different boards: My Vision Board for the year and my Lifestyle Design Board. One morning, I noticed I was getting distracted by other pins that were completely unrelated so I just have to practice better self-control. (But those recipe pins can be so distracting!)
EXERCISE
I wait and do my exercise at the very end since I go to the gym each morning. You can hear more about my current fitness routine in this video I shared but generally, I spend about an hour at the gym. This differs from what The Miracle Morning outlines, since The Miracle Morning is designed to be finished in 60 minutes or so. However, my fitness routine was set before I started The Miracle Morning so the additional time I spend there is just by choice.
READING
I've been reading The Art of Non-Conformity by Chris Guillebeau and, wow, what a perfect book to be reading while starting The Miracle Morning! As the title indicates, this book is all about creating a lifestyle that goes against the status quo and it certainly gives me that additional pep in my step to jump out of bed each morning to complete The Miracle Morning. The time passes so quickly while reading. I usually like to share ah-ha moments both through jotting them down in my iPhone notes and by sharing them on Instagram Stories (you can follow along on Instagram here).
Right now, my goal is to read either an entire chapter or a section of a chapter (since that's kind of how this particular book is broken up.) I'm happy to say I am already nearing the end of the book! I think my biggest takeaway is that setting aside designated reading time each day (with zero distractions) is vital for me and my personal reading goals. Otherwise, I've always said I'd read at some point during the day and I think we all know how well that method works. It doesn't.
SCRIBING
Ah, yes. Save the best for last. This is the part where I journal. I am currently trying to break out of a lifelong habit of only allowing myself to write one page-worth of words in my journals. I definitely have OCD when it comes to writing in journals. I'm not quite sure what that's about but it's definitely a thing. So, the good news is that writing one page in my journal doesn't take much time. Five minutes or so usually. The bad news is that because of this OCD tendency, I limit my thoughts. The idea of writing beyond one page is still a bit difficult to fathom (wow, writing this out is making me realize how OCD I really am) but maybe one day I'll find the will to break the cycle.
Side note: This really always has been an issue. The people in college who would write in their books and highlight text? I could never! I just recently within the past year started highlighting in my books and even still, I keep that to a minimum. Prior to that, I would underline. In pencil. Guys!
---
A couple things I've noticed in the first week:
I get sad when the sun starts coming up. Honestly, it is so calm and peaceful to be up before the sun and before many other people. It's so quiet in my home.
I genuinely can't wait for the morning now. I start looking forward to it around dinner time.
Going to bed early was my biggest concern going into this and, while I still don't get to sleep quite early enough yet, it has not been nearly as difficult as I initially thought it might be.
I sleep like a baby. As someone who had frequent bouts of insomnia and awoke throughout the night, I fall asleep now right away and usually sleep through the entire night. In less than a week, this was certainly one of the biggest, most rewarding results since beginning The Miracle Morning.
During the weekend, I set my alarm one hour later (6:00am) but noticed Saturday morning that my internal alarm clock woke me up at 4:59am. I smiled because that's hilarious and then went back to sleep.
My productivity, motivation, and creativity has been through the roof since beginning The Miracle Morning. I get an incredible amount done, not only before noon, but throughout the entire day. I am amazed. The clarity I have felt in my day-to-day life in just this past week blows my mind. I have to attribute it to the focused, intentional practice of The Miracle Morning. It truly does set you up for success. I can't wait to see what transpires in the next few weeks.
If you haven't already, please go subscribe to my YouTube channel! I post a bunch of videos to help you with intentional living, goal setting, and conquering your fears! I've started sharing more of my experiences with The Miracle Morning in my videos too.
For more, follow along on Instagram.
More Helpful Resources: